Evo can't give up - asks Piñera to resume negotiations
Wednesday, October 10th 2018 - 10:28 UTC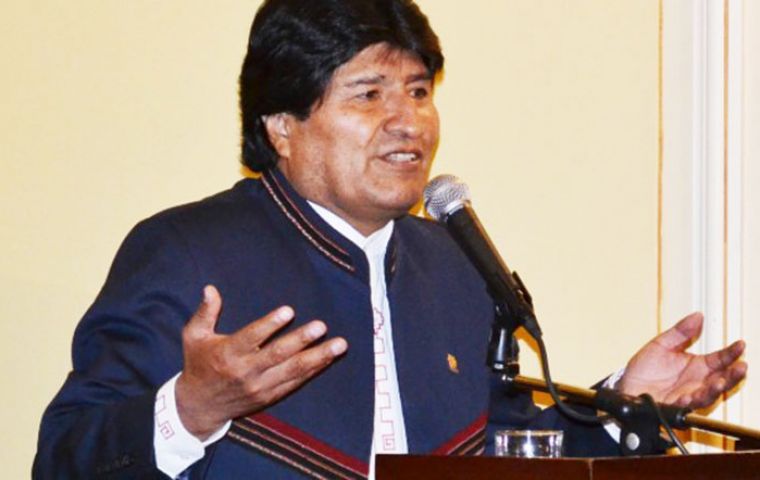 Bolivian President Evo Morales Tuesday delivered on his promise and asked his Chilean counterpart, Sebastián Piñera, to resume dialogue between the two countries on the maritime issue and other matters of mutual interest, in the aftermath of the recent ruling by The Hague's International Court.
"In compliance with the Court's decision, the Plurinational State of Bolivia invites the Government of Chile to restart the dialogue to deal with matters related to the situation of confinement in Bolivia and all those related to a good-neighbourly relationship that have been recognized on both sides as of mutual interest," Morales said in a press statement.
The president said that Bolivia respects the ruling of the International Court of Justice (ICJ), which favoured Chile by denying that it has an obligation to negotiate with Bolivia, but recalled that the same tribunal invoked dialogue between the parties to resolve their conflict.
He referred to paragraph 176 of the judgment, and to the attached statement of the President of the Court, Abdul Yussuf, in which it is made clear that despite the ruling, the two countries are not prevented from continuing dialogue.
He said that Bolivia makes "effective" the invocation of the Court by inviting Chile to dialogue. He added that Piñera's government accepting the invitation would contribute to give continuity to the efforts of both countries to find solutions to issues yet unresolved.
After the ruling, Morales said his country would "never give up," but Piñera has already set as a condition for any dialogue that Bolivia abandons its claim on any part of Chile's sea and territory.
Landlocked Bolivia lost access to the sea in 1884 after a war with Chile and has tried to regain it ever since.