Leader Keiko Fujimori arrested for money laundering in Peru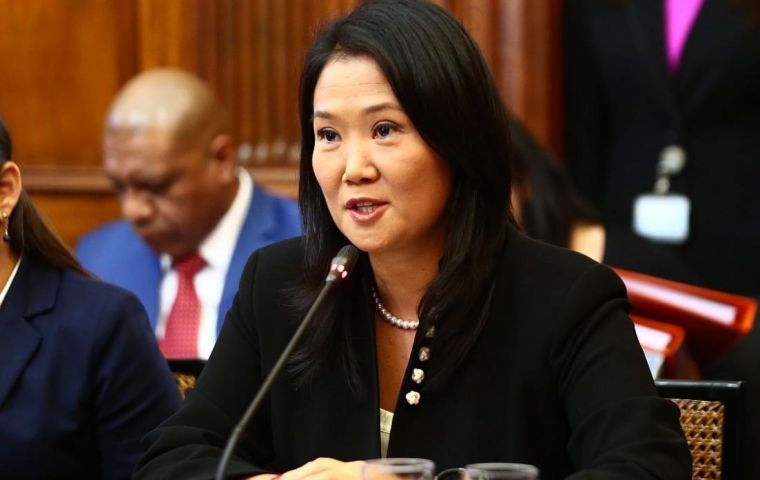 A week after the justice annulled the pardon to her father, the former president Alberto Fujimori, after a request of the Peru's Attorney of Wash of Assets, the powerful leader of the Popular Force party, Keiko Fujimori, was arrested in Lima on Wednesday after going to a court to be questioned with her husband. The arrest occurred amid an investigation for alleged irregular handling of funds of the party's campaign for 2011 presidential elections.
Keiko was detained preventively for a period of 10 days after she came to testify before a judge, said her lawyer Giuliana Loza, who described the judicial decision as "outrageous and abusive".
The prosecution asked for the detention at the end of the hearing of Keiko, 43, before Judge Richard Concepción Carhuancho.
"She has made herself available to the prosecution," the lawyer added, noting that the measure assaulted them by surprise.
Judge Concepción Carhuancho states in his resolution that in the case of Keiko, there is evidence of a "serious flight risk" because it has constituted a "criminal organization inside his party," Fuerza Popular.
The prison order against the Popular Force party leader, populist rightist, includes 19 others, including Jaime Yoshiyama and Augusto Bedoya, investigated for allegedly receiving funds from the Brazilian construction company Odebrecht for Keiko's presidential campaign in 2011.
Keiko was detained when attending to the Attorney General's office after being summoned to testify for the contributions received by her party in the 2011 campaign, won by her rival Ollanta Humala. She went accompanied by her husband, United States citizen Mark Vito Villanella.
The money laundering prosecutor, José Domingo Pérez, also attributed Keiko to leading a "criminal organization" within his party, which dominates the Peruvian Congress, for receiving illicit contributions.
The arrest request is based on new information received by the Peruvian prosecutor's office of his Brazilian counterpart, which would prove that Keiko's party received contributions of 1.2 million dollars for her 2011 campaign.
According to a former Odebrecht head in Lima, Jorge Barata, the Fujimorism leaders Yoshiyama and Bedoya were the intermediaries. Their homes were raided in March by the prosecution, Barata told AFP.
Barata also confessed to Peruvian prosecutors in Sao Paulo who had also made contributions to the campaigns of other candidates in 2011: Ollanta Humala (2011-2016), Alejandro Toledo (2001-2006) and Pedro Pablo Kuczynski.
The former head of Odebrecth said that in addition to the one million dollars given to Yoshiyama and Bedoya, he made another contribution of 200,000 dollars for Keiko through the organization of the dome of Peruvian businessmen, the Confiep.
All the former presidents and Keiko denied having received money from Odebrecht, a company accused of handing out gifts to politicians and officials in different Latin American countries.
With AFP information