US markets suffer their sharpest one-day fall: fears of interest rates, inflation and trade tensions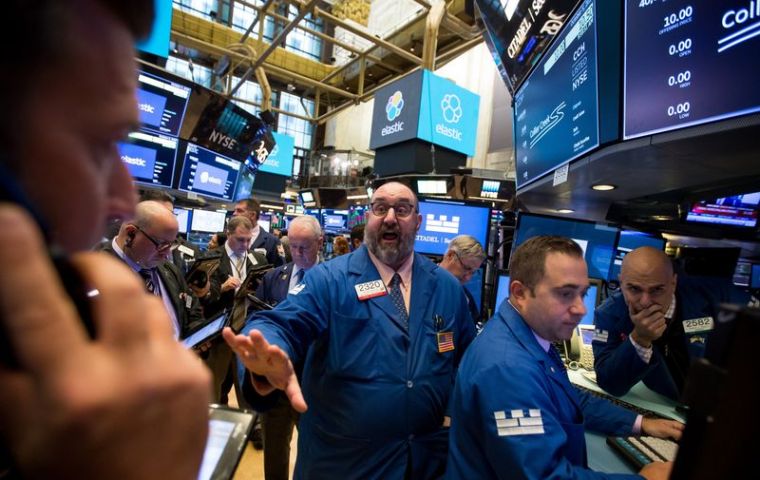 United States share markets suffered on Wednesday their sharpest one-day falls in months, as fears about rising interest rates, inflation, trade tensions intensified. The tech-heavy Nasdaq led the declines, sliding 4%, or 315.9 points, to 7,422. The Dow Jones and S&P 500 also fell by more than 3%, with losses accelerating towards the end of the day. Netflix fell 8%, while Amazon slid 6%.
The slides extended declines in Europe, where exchanges in Germany and France ended the day down more than 2%.
The Dow fell 831.8 points, or 3.15% to 25,598.7. The S&P 500 dropped 94.6 or 3.29% to 2,785.6 - the biggest one-day fall since early February.
US markets have done better than expected this year, bouncing back after turmoil early in the year to set new records over the summer.
But the Federal Reserve is raising interest rates, a move that tends to make it more expensive for companies to borrow, hurting bottom lines and turning stocks into a less attractive investment.
The White House issued a statement on Wednesday saying the economy remains healthy. But US President Donald Trump also cast blame on the Fed, which he has repeatedly criticized for raising rates. The central bank has "gone crazy", he told reporters.
The stock market fall came ahead of United States' corporate earnings season, when companies will provide updates to investors about their outlook for the rest of the year.
"The big concern isn't really what third quarter earnings numbers are, but really what the outlook for the fourth quarter and first quarters are," Oliver Pursche, vice chairman and chief market strategist at Bruderman Asset Management, in New York, said.
Company costs, such as pay, are rising, and data on published on Wednesday showed a pick-up in inflation. US tariffs on steel, aluminum and Chinese goods are another factor that could drive up costs and force companies to lower their forecasts, Mr Pursche said.
"I suspect that's one of the things underlying market concern," he said.
Shares in the US energy sector saw some of the steepest declines on Wednesday, as investors reacted to shutdowns caused by Hurricane Michael in Florida and the Gulf of Mexico.
Oil exploration firms Hess Corp and Marathon Oil fell more than 7%, while Chevron was down about 3%. Big tech companies also dropped, with shares in Google and Apple falling almost 5%.
The sell-off picked up late in the day, sending investors towards bonds. But for the most part, bond prices have remained relatively low.