Carcigenous BA underground trains to be scrapped
Friday, October 12th 2018 - 22:06 UTC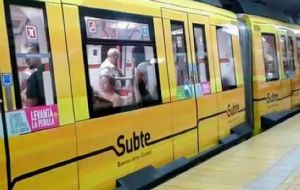 Used underground trains purchased from Spain for Buenos Aires' B Line in 2011 are now to be scrapped after finding they were made of an alloy containing carcigenous asbestos.
Around 4 million euros were paid for the cars in 2011 when Mauricio Macri was still mayor of Buenos Aires.
The 24 CAF 5000 cars that were purchased from the Madrid Metro were contaminated and therefore must be destroyed as scrap metal, it was reported.
Spanish sources say a total 4.2 million euros were paid. "Metro de Madrid rubs its hands with the 4.2 million euros that it has taken for the sale of some scrap metal wagons after 32 years of rattling," the Spanish newspaper El País published on September 26, 2011.
The "new" trains ran for seven years between the Leandro Alem and Juan Manuel de Rosas stations before it was discovered that they were contaminated with asbestos, a carcinogenic substance and therefore what cost a fortune will be sold as scrap metal.
Asbestos is a mineral of microscopic fibers with insulating and heat resistant properties, which are very light, spread in the air. When inhaled, they adhere to the lungs and cause cancer.
The Buenos Aires city government, now headed by Horacio Rodríguez Larreta, who was cabinet chief during Macri's tenure, has retained the services of a company specialized in the treatment of this type of waste.
But the experts are still conducting studies to outline a final solution for these doomed carriages.