Cristina Fernandez lawmaker son Maximo has to appear in court on 23 October
Friday, October 12th 2018 - 06:54 UTC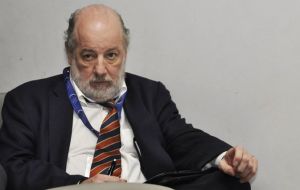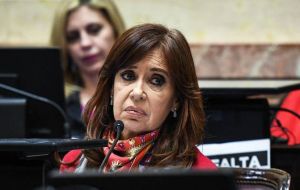 The son of Argentine ex president Cristina Fernandez, Máximo Kirchner will appear later this month in court to testify in the so-called "notebooks of corruption" investigation, after Federal Judge Claudio Bonadio summoned the national congressman.
Maximo Kirchner will appear on October 23, the Noticias Argentinas news agency reported, citing judicial sources. His testimony will follow former Justice secretary Julián Álvarez, whom Bonadio has also summoned.
Late last month, the controversial federal judge slammed former president Cristina Fernández de Kirchner with a preventive arrest order on accusations of bribery. He also set an embargo of four billion pesos (some US$101 million) on her assets.
Cristina Fernández de Kirchner is currently a sitting senator for Buenos Aires Province, a post that grants her immunity from imprisonment, though not from prosecution. Senators would have to vote to strip her of that benefit, before her arrest could proceed. If such a decision is not taken, she would not be jailed, even if found guilty. Judge Bonadio has requested the Senate strip her of immunity.
On her second visit to court for this case, Fernández de Kirchner last month submitted a letter to the judge reiterating her "categorical and strict denial" that she "committed any crime" or was involved in "any illicit activity." She also repeated her claim that president Mauricio Macri administration was moving against her in order to distract attention away from the economic "debacle."
Maximo Kirchner's summons stems from statements made to the court by former Public Workd secretary Jose Lopez, who claimed the La Cámpora youth movement which Kirchner leads was involved in widespread corruption involving kickbacks from public works contracts.
Maximo Kirchner responded by rejecting the allegations, adding that "it is obvious" that the US$ 9 million in cash which Lopez was caught trying to hide in a Catholic monastery "does not" belong to Cristina Fernández de Kirchner.
Fellow national lawmakers Eduardo "Wado" de Pedro and Andres "Cuervo" Larroque, as well as former Buenos Aires provincial lawmaker Jose Ottavis — all La Cámpora members — have already testified before Bonadio in the ongoing investigation.
Cristina Fernandez judicial situation, and the possible stripping of her immunity, has divided the Macri administration. While strategists close to Macri prefer her to remain in the Senate ensuring the opposition remains divided, plus limiting the former president's electoral chances in 2019, on the other side, those who favor the strict compliance of the law and republicanism, insist the Senate should strip Senator Fernandez of immunity and have her face charges and most probably imprisoned.