Falklands' government and fishing industry seek support in Galicia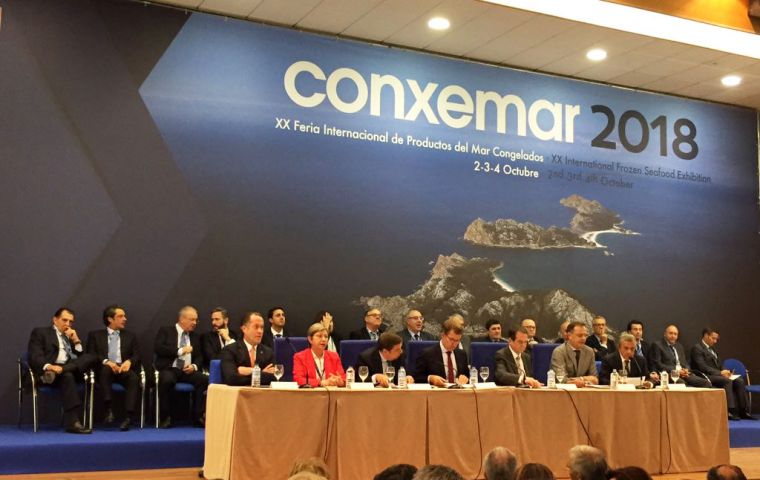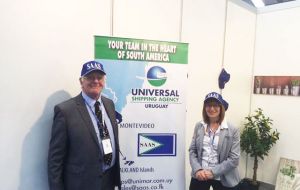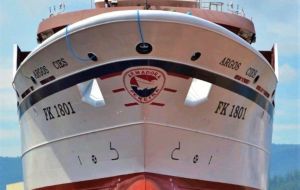 A delegation from the Falkland Islands government was last week in Vigo, Spain to support Falklands Fishing Company Association (FIFCA) members attending the Conxemar Seafood Exhibition and to reinforce the Falkland Islands case during Brexit negotiations.
The fishing industry had representatives from Argos, Beauchene, Fortuna, RBC, and Seafish, while SAAS ( South American Atlantic Service Ltd ) also had a stand at the exhibition to promote their services.
Member of Legislative Assembly (MLA) Roger Edwards and Director of Policy and Economic Development, Diane Simsovic addressed a meeting at the offices of the Vigo Ship Owners Association (ARVI). Also addressing the meeting was the Regional Galician Fisheries Minister Rosa Quintana.
The audience contained a number of influential Spanish government officials and representatives of the fishing industry from the Falkland Islands and Spain.
The purpose of this meeting was to highlight the mutually beneficial relationship between the fishing industry in the Falkland Islands and the Galcian economy; the potential impact of Brexit, and to secure local support for continued tariff and quota free trade between the Falklands and the EU.
In addition, FIFCA members and Diane, supported by the President of ARVI, had the opportunity to discuss our common interest in maintaining tariff and quota free trade at a very productive meeting with Vigo Mayor Abel Caballeros with the Vigo Port Authority.
In 2017, 288,373 tonnes of fish were imported into Spain through Vigo, of which 16%, with a customs value of €139m, came from the Falkland Islands.
In the same year, 34% of all the calamari imported by Spain came from the Falkland Islands. Whilst the squid is caught in the Falklands, the majority of processing, added value, distribution, and marketing occurred in Spain.
The majority of Falkland Islands fishing companies operate joint venture businesses with Spanish fishing companies based in Galicia. As a result, a growing number of new fishing vessels, costing on average €20m each are built in Galician ship yards.
Only last month the Falkland Islands Government registered a new build fishing trawler called the Argos Cies, which reflects the 50:50 partnership in the Jupiter Fishing Company between Argos Group Ltd of Stanley, Falkland Islands and Armadora Pereira SA of Vigo, Spain. This new vessel cost €21m and was built at the Nodosa shipyard in Marin, Galicia.
Other vessels recently built include the Monteferro and CFL Hunter.
Critically, at least 6,000 jobs (2,000 on vessels and 4,000 on shore) are reliant on the current relationship between the Galician region of Spain and the Falkland Islands. "It was clear from the meeting, that the Galician politicians and the local fishing industry understand the importance of their relationship with the Falkland Islands," said FIFCA.
"They are doing all they can to raise the potential negative impact Brexit could have and to encourage the Spanish Government to do what they can to support continued tariff and quota free trade between the Falkland Islands and the EU." (Penguin News)