New 50 bolivianos bill released as scheduled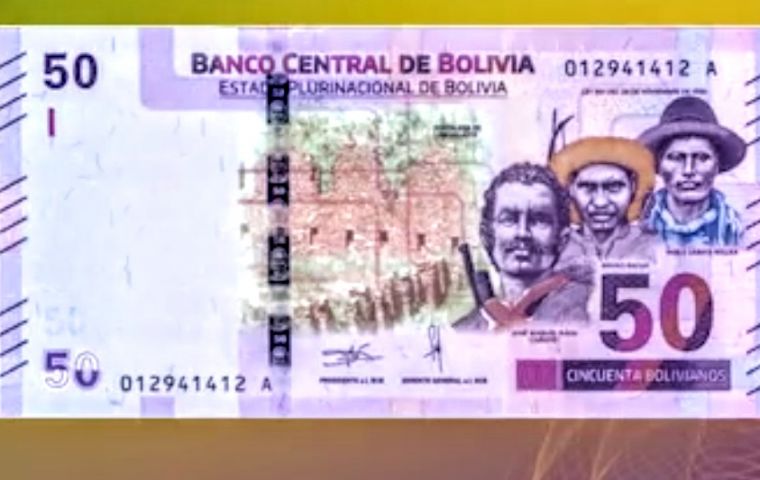 Bolivia's Central Bank (BCB) Monday launched the new 50 bolivianos note (worth around 7.3 US dollars), following the recent release of the 10 and 20 bills.
BCB President Pablo Ramos said the move is a response to the needs arising from the national economy. But there is also a question of replacing bills from previous issuances that are damaged after 31 years in circulation when it is advisable to renew bills every 15 years at most.
"We are complying with the schedule with the presentation of the 50 bolivianos bill in October. In January we will be presenting the 100 boliviano bill," Ramos added.
The new bill pays homage to three historical figures; It carries the image of an archaeological site, a natural landscape and species of flora and fauna from different regions of the country.
The historical characters found on the new Bs 50 note are José Manuel Baca "Cañoto," Pablo Zárate Willka and the Tacana Indian Bruno Racua.
Cañoto (Santa Cruz, 1790-1854), was an independence guerrilla, montonero, singer and poet, who took part in the Membiray uprising (1810) when he was 20 years old, enrolled in patriotic ranks and participated in the Battle of Florida (1814), the campaign of Chiquitos (1815) and El Pari (1816).
Zárate Willka (1850 - 1903), who participated in the Federal War (1899-1900), along with 50 thousand Aymaras, demanding the liberation of the settlers, indigenous participation in the government and the restitution of communal lands.
And Racua (1879-1932), a syringuero worker who was part of the Porvenir column and participated in the Acre War (Battle of Bahia, 1902), attacked and burned together with a group of archers. deposits of ammunition of the enemy, which helped stop the advance of the Brazilian invaders over Cobija.
On the back of the bill there are the images of Sajama, of the real quinoa; and of the pink flamingo, an endangered species.