The Catholic Church has seven new saints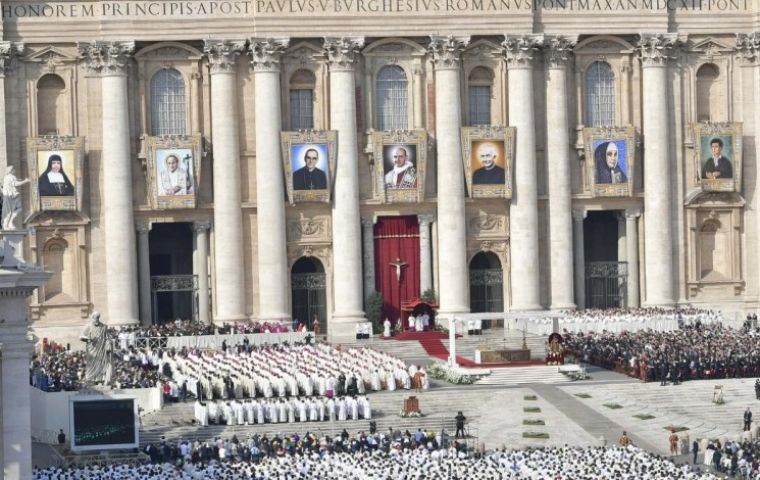 A former pontiff, a Spanish-born nun who is said to have performed her first miracle in Argentina and a slain Salvadorean Bishop were among the seven new saints canonised Sunday by Pope Francis at the Vatican.
Giovanni Battista Montini (better known as Pope Paul VI), Archbishop Oscar Romero, Vincenzo Romano, Francesco Spinelli, Nunzio Sulprizio, Nazaria Ignacia March Mesa and Maria Katharina Kasper were officially recognised as saints at a ceremony attended by some 70,000 people in St. Peter's Square.
The guests of honour included El Salvador's President Salvador Sánchez Ceren, Chile's President Sebastián Pinera and Spain's Queen Mother Sophia.
Pope Paul VI is credited with continuing the work of Pope John XXIII and bringing the church into the modern era with a series of reforms introduced after the Second Vatican Council in the 1960s.
"Even in the midst of tiredness and misunderstanding, Paul VI bore witness in a passionate way to the beauty and the joy of following Christ totally," said Francis about Paul VI, who was the third pope after John Paul II and John XXIII to be declared a saint since his election in 2013.
Archbishop Óscar Romero was gunned down in a hospital church in El Salvador 38 years ago. In his homily Sunday, Francis said Romero "left the security of the world, even his own safety, in order to give his life according to the Gospel, close to the poor and to his people."
Romero, who was beatified by Francis in El Salvador in 2015, was the archbishop of the nation's capital city of San Salvador. He was shot while celebrating Mass March 24, 1980, during the birth of a civil war between leftist guerrilla forces and the dictatorial government of the right.
An outspoken critic of the violence and injustices being committed at the time, Romero was declared a martyr who was killed in hatred of the faith for his vocal defense of human rights.
As a tribute to Romero and Montini, Francis wore the blood-stained rope belt Romero wore when he was murdered in 1980 and also used Pope Paul's staff, chalice and vestment. Both men strongly influenced Francis and he praised them for their courage in turbulent times and their dedication to social justice and the poor.
Born in Spain on January 10, 1889 as Nazaria Ignacia March Mesa, she was better known in Catholic circles as Nazaria of Saint Teresa of Jesus, founder of the Congregation of the Cross Missionary Sisters of the Church.
The nun's first miracle is said to have happened in Buenos Aires, with the sudden cure of an agonising woman.
Daniela Pérez, Superior General of the Congregation, said Jorge Bergoglio (now Pope Francis) himself knew Nazaria was special. In his times as archbishop of Buenos Aires, "Francis used to walk around the neighbourhood where the sisters are and would say: Here you feel the footsteps of a saint," Pérez recalled.
Beatified in 1992 by Pope John Paul II in St. Peter's Square, the nun is the founder of the first women's union in Bolivia in 1933, so she also has a great devotion in that country, particularly in Oruro where she founded the order in 1925.
In 1931 she created the dining room "Olla del pobre" (The poor person's pot) in four Bolivian cities, which still remain open to this day, supplying food to some 200 people daily.
Vincenzo Dominico Romano (1751-1831) was an Italian Roman Catholic parish priest of the village of Herculano, who was noted for his simplistic and frugal manner of living and for his great care of orphans. Pope Paul VI had beatified him in 1963.
Francesco Spinelli (1853-1913) was an Italian Roman Catholic priest and the founder of the Sisters Adorers of the Blessed Sacrament. He was beatified by John Paul II in 1992.
Nunzio Sulprizio (1817-1836) was an Italian Roman Catholic from Pescara who worked as an apprentice blacksmith and was considered to be a gentle and pious individual. Beatified in 1963, he is said to have performed two miraculous healings.
Maria Katharina Kasper (1820-1898) was a German Roman Catholic nun. She founded the Poor Handmaids of Jesus Christ congregation. She stood out for her dedication to the poor and the ill. She was beatified by Paul VI in 1978.