Two Chilean bishops no longer priests due to their involvement in cases of sexual abuse
Monday, October 15th 2018 - 04:42 UTC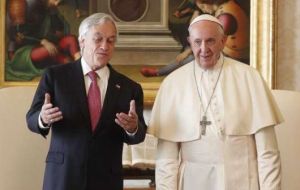 Pope Francis Saturday stripped two Chilean bishops of their priesthood after having been found to be involved in the country's widening sexual abuse crisis, the Vatican said on Saturday. A Vatican statement in Spanish said the pope's decision was definitive and not open to appeal.
The two men were Francisco Jose Cox Huneeus, archbishop emeritus of the city of La Serena, and Marco Antonio Ordenes Fernandez, archbishop emeritus of Iquique.
The technical term in canon (Church) law is "defrocking,", which translates as "reduced to the lay state."
In other words, they are no longer priests, which is the harshest punishment the Church can inflict on a member of the clergy.
Last month Francis defrocked Father Fernando Karadima, an 88-year-old Chilean priest who sexually abused teenage boys over a period of many years and is at the centre of a wider abuse scandal that is still under investigation.
Francis had a private meeting at the Vatican Saturday with Chile's President Sebastián Piñera, who was among the guests of honour during Sunday's canonisation cetermony at St Peter's Square.