US dollar falls for seventh time in a row against Argentine peso, but inflation still among five worst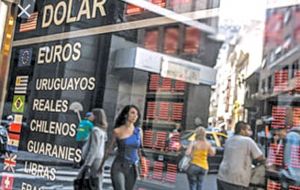 The US dollar fell Tuesday yet again, making it the seventh straight time the peso manages to recover due to the government's "cash-drought" measures. But that did not change the fact that According to the International Monetary Fund's latest report, Argentina will have the fifth highest inflation rate in the world, which is expected to reach 41.5 by the end of the year..
In April the IMF predicted that Argentina would have an inflation rate of only 19.2 percent, but successive devaluations led to the new figures.
Fourth highest is Iran (47.8 %), third is Sudan (64.3 %), second is South Sudan (99.4) and Venezuela has already secured the worst spot with 2,500,000 %.
The US currency rate closed Tuesday at AR$ 37.17 / 1 US$ in banks and exchange parlours, the highest the peso has been in the past six weeks. The Single Market and Free Exchange (MULC) quoted AR$ 36 for 1 US$ as the Central Bank issued $ 132,119 million in Letters Liquidity 'Leliq' bonds over seven days, with an average yield of 72,198 annual percent. The maximum cut rate was 73.92% per year.
In a similar operation on Friday, prior to Monday's national holiday, the CB endorsed an average cut of 72% and a cap of 73.90%.
The dollar still traded Tuesday at 1 US$ / AR$ 38 on the black market in downtown Buenos Aires, according to financialdisctrict sources.
Earlier on Tuesday, the US dollar was on an upward path between 37.4 and 38 pesos before the CB's manoeuver.