Dollar, prices go up in inflation-ridden Argentina
Friday, October 19th 2018 - 10:18 UTC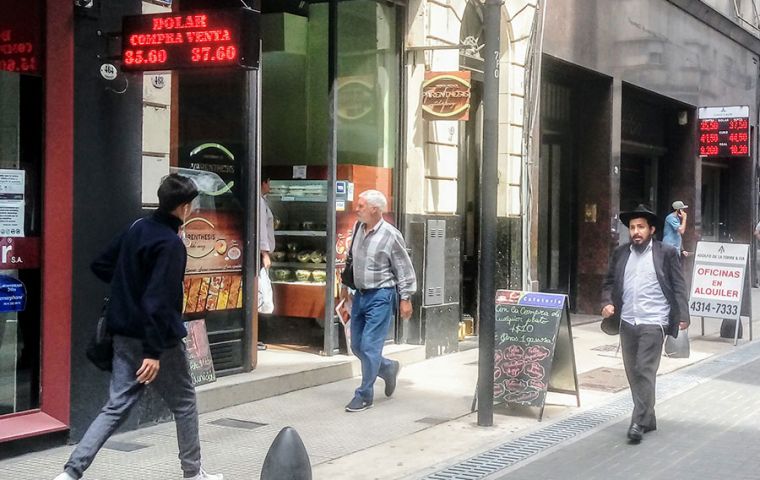 The US dollar rose 22 cents against the Argentine peso and closed at a 1 US$/ AR$37.50 parity on Thursday. It was the second day in a row for an upward trend following seven straight slumps.
Meanwhile, inflation kept prices on the rise, particularly for primary products, utilities, imported items and construction. In September, the Wholesale Price Index rose 16% and the Construction Cost 7.3%, according to the National Institute of Statistics and Censuses (Indec).
Dollars were traded at between $ 37.70 and $ 37.25, depending on each bank. The state-owned Banco Nación closed at $ 37.50, which meant a 40 cent increase in their quotation, still below the 47 cent rise which brought wholesale trading to
AR$ 36.65 / 1 US$.
The Central Bank (BCRA) issued $ 152,373 million worth of 7 day Liquidity Letters (bonds) at an average rate of 72.53%.
The INDEC report released Thursday showed wholesale prices accumulated a rise of 66.1% so far this year, while the cost of construction rose 32.5%. Retail inflation was 6.5% in September and 32.5% so far this year.
The increase in wholesale prices was driven by an increase of 18.1% in primary products, 24.5% in oil and gas, 24.7% in imported products, and 2.8% in electricity.
Wholesale prices were heavily affected by by an increase of 129% in crude oil and gas, 53% in farming, 47% in electricity, and 104% for imported products. For its part, construction were the combined result of an increase of 14.1% in materials, 3.3% in labour, and 3.5 % in general expenses.
Finance Minister Nicolas Dujovne said in that the government "will continue with a very firm policy of controlling the monetary aggregates until achieving substantially low inflation."