Costa Rican official estimates 30,000 Nicaraguans have sought refuge in six months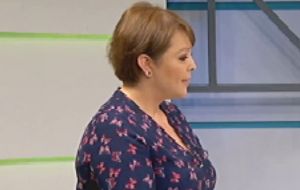 Costa Rica's Migration Director Raquel Vargas Jaubert said in a TV interview on Sunday that the number of Nicaraguans who have fled to Costa Rica in the past six months is of no less than 30.000 people.
The refugees are seeking shelter from violence and police persecution, the official explained.
Vargas Jaubert, a law graduate, made those remarks to the "Esta Semana" show, broadcast by the privately-owned Channel 12 in Managua.
She acknowledged the refugees reached her country by airplane but also through the "blind spots" along the common border.
Of the total number, around 23.000 have requested to be treated as refugees.
Vargas Jaubert said her country has been able to manage this massive migratory movement thanks to a comprehensive plan which involves 33 public institutions.
This plan was developed after avalanches of 8,000 Cubans and almost 3.000 Africans in 2015 and 2016 on their way to the United States.
The Costa Rican government has two main immigration centres for Nicaraguans, one in the North and one in the the South of the country.