Norwegian WWII resistance hero Joachim Ronneberg dies at 99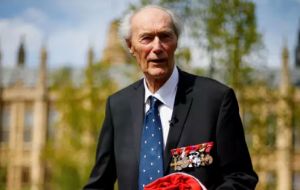 A Norwegian resistance fighter who thwarted Nazi Germany's nuclear weaponry project died Monday at the age of 99.
Joachim Ronneberg led Operation Gunnerside, a top-secret raid in 1943 on a heavily-guarded plant in Norway's southern region of Telemark to destroy a German plant producing heavy water, a necessary component in nuclear development.
The key military undertaking was depicted in the 1965 movie Heroes of Telemark, starring Kirk Douglas.
In a 2013 interview with the BBC, Ronneberg admitted he only realised the importance of the mission after atomic bombs were dropped on Japan's Hiroshima and Nagasaki in 1945.
Norwegian Prime Minister Erna Solberg called him one of the country's heroes and possibly the last of the World War II resistance fighters.
Ronneberg fled his country when the Nazis invaded in 1940. He trained with the Norwegian resistance in Britain and returned behind enemy lines.
After the war, he worked as a radio journalist and helped raise awareness of the dangers of war and totalitarian governments among the young.
The Nazis were working on the development of nuclear weapons. Had they achieved them, the outcome of the world could have been different.
During his years as a broadcaster he rarely talked about his wartime experiences.