Opinion polls confirm Bolsonaro is set to become Brazil's president next Sunday
Tuesday, October 23rd 2018 - 07:35 UTC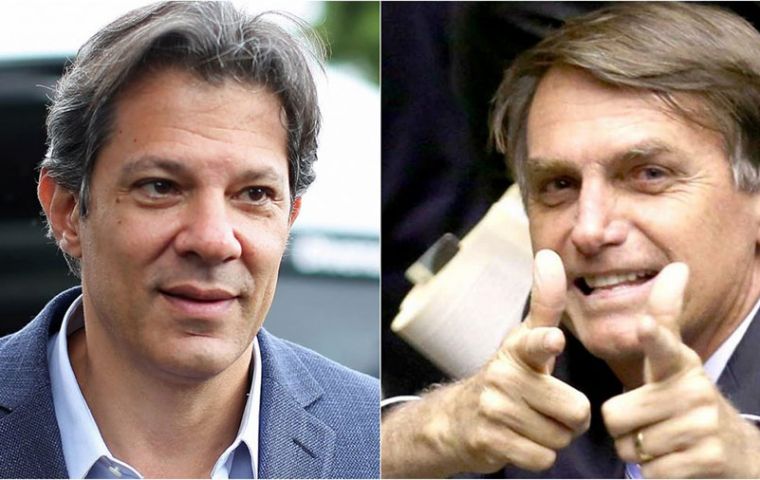 The latest public opinion poll released in Brazil, BTG Pactual/FSB showed that the extreme right candidate Jair Bolsonaro is leading with a valid vote intention of 60%, while leftist Fernando Haddad has a 40% support. Both presidential candidates for Sunday's 28 October runoff suffered minor variations compared to the previous poll, 59% vs 41%.
The release on Monday evening differed from the CNT/MDA poll, published earlier in the day and which registered 57% and 43%. This poll interviewed 2.000 voters, 16 years and older, in the 27 states of the union between October 20/21, with an error margin of plus/minus two percentage points.
Valid votes refer to those intent in voting, which means they do not include annulled, spoilt or blank ballots. Considering the total of votes, Bolsonaro would collect 52%, one percentage point ahead of the previous poll a week ago, and Haddad 35%, the same figure as a week ago.
The review also showed that Haddad has a 52% rejection and Bolsonaro, 38%. Likewise 85% of voters of the former Army officer consider him the best option, while 10% support him to impede the other candidate from winning. As to Haddad, former mayor of Sao Paulo City, 75% of his voters consider him the better candidate, while 18% do not want another candidate to win.
Overall 76% of interviews indicated that they are "certain" of a Bolsonaro victory, while only 17% feel that the Workers Party man will be the next Brazilian president.

The BTG Pactual/FSB poll also asked about "feelings" towards the Sunday election. On average 73% admitted they are disillusioned; 69% hopeful; 63% fearful and 43%