Saudi Arabia: no intention of a repeat of a 1973-style oil embargo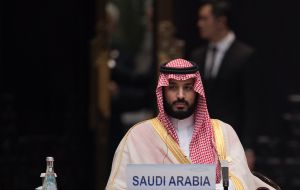 Saudi Arabia has no intention of unleashing a 1973-style oil embargo on Western consumers and will isolate oil from politics, the Saudi energy minister said on Monday amid a worsening crisis over the killing of Saudi journalist Jamal Khashoggi.
"There is no intention," Khalid al-Falih told Russia's TASS news agency when asked whether there could be a repeat of the oil embargo.
Top U.S. lawmakers turned their ire on Saudi Crown Prince Mohammed bin Salman on Sunday and said they believed he ordered the killing of Khashoggi, although the administration of U.S. President Donald Trump maintained a more cautious stance.
Several U.S. lawmakers have suggested imposing sanctions on Saudi Arabia in recent days while the kingdom, the world's largest oil exporter, has pledged to retaliate against any sanctions with "bigger measures".
"This incident will pass. But Saudi Arabia is a very responsible country, for decades we used our oil policy as a responsible economic tool and isolated it from politics," Falih said.
"My role as the energy minister is to implement my government's constructive and responsible role and stabilizing the world's energy markets accordingly, contributing to global economic development," Falih said. He said that if oil prices went up, it would slow the global economy and trigger a recession.
In a column published last week, Saudi-owned Al Arabiya channel's General Manager Turki Aldakhil warned that imposing sanctions on Riyadh could spark global economic disaster as oil could jump to US$ 200 per barrel.
The 1973 oil crisis began when Arab producers led by Saudi Arabia slapped an oil embargo on Western supporters of Israel in its war with Egypt, targeting Canada, Japan, the Netherlands, Britain and the United States. Oil prices spiked on the move, as they did later in 1979 because of the Iranian revolution.
The efficiency of the embargo was far from obvious as higher prices led to the development of new oil provinces outside the Middle East and encouraged alternative energy. Riyadh has refrained from using oil as a direct weapon since then.
"If oil prices will go too high, it will slow down the world economy and would trigger a global recession. And Saudi Arabia has been consistent in its policy. We work to stabilize global markets and facilitate global economic growth. That policy has been consistent for many years," Falih said.
Falih said that with sanctions on Iran coming into full force next month, there was no guarantee oil prices would refrain from going higher.
"I cannot give you a guarantee, because I cannot predict what will happen to other suppliers," Falih said, when asked whether the world can avoid oil hitting US$ 100 per barrel again.
"We have sanctions on Iran, and nobody has a clue what Iranians' exports will be. Secondly, there are potential declines in different countries like Libya, Nigeria, Mexico and Venezuela," he said.
"If 3 million barrels per day disappears, we cannot cover this volume. So we have to use oil reserves," he said.
Falih said Saudi Arabia would soon raise output to 11 million barrels per day (bpd) from the current 10.7 million. He added that Riyadh had capacity to increase output to 12 million bpd and its Gulf OPEC ally, the United Arab Emirates, could add another 0.2 million bpd.