United States 2018 federal budget deficit at its highest since 2012: US$ 779bn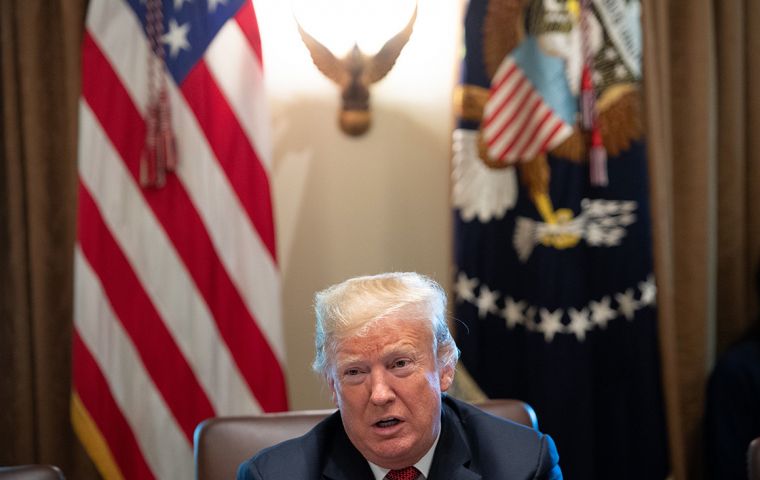 The United States federal budget deficit rose in fiscal 2018 to the highest level in six years as spending climbed, the Trump administration said. The deficit jumped to US$ 779 billion, US$ 113 billion or 17% higher than the previous fiscal period, according to a statement from Treasury Secretary Steven Mnuchin and Office of Management and Budget Director Mick Mulvaney.
It was larger than any year since 2012, when it topped US$1 trillion. The budget shortfall rose to 3.9% of U.S. GDP. The deficit increased by US$ 70 billion less than anticipated in a report published in July, according to the two officials.
Federal revenue rose only slightly, by US$14 billion after Republicans chopped tax rates for corporations and most individuals. Outlays climbed by US$ 127 billion, or 3.2%. A spike in defense spending, as well as increases for Medicaid, Social Security and disaster relief, contributed to the increase.
The Trump administration and congressional Republicans have pledged their commitment to fiscal discipline, despite the fact that they passed a tax law projected to dramatically expand budget deficits last year and then authorized a boost in spending. In a statement, Mulvaney claimed that "America's booming economy will create increased government revenues," a point the GOP has repeatedly argued in favor of its tax plan.
"But this fiscal picture is a blunt warning to Congress of the dire consequences of irresponsible and unnecessary spending," he added. "Going forward, President Trump and this Administration will continue to work with Congress to make the difficult choices needed to bring fiscal restraint, which, when matched with increasing revenue, will reduce our deficit."
Several independent analysts have estimated the GOP tax plan will cause budget deficits to grow dramatically over time, even after economic growth is taken into account. The Trump administration has proposed dramatic cuts to spending in several government agencies to reduce deficits. Even many Republicans have rejected the severity of proposed budget cuts.
The Treasury noted that receipts related to "excise, customs and other" jumped to US$35 billion in September 2018, a 35% increase over the prior-year period. It is unclear how much of that revenue relates to Trump's tariffs on imports from major trading partners.