Argentina - UK: Foreign ministers meet in London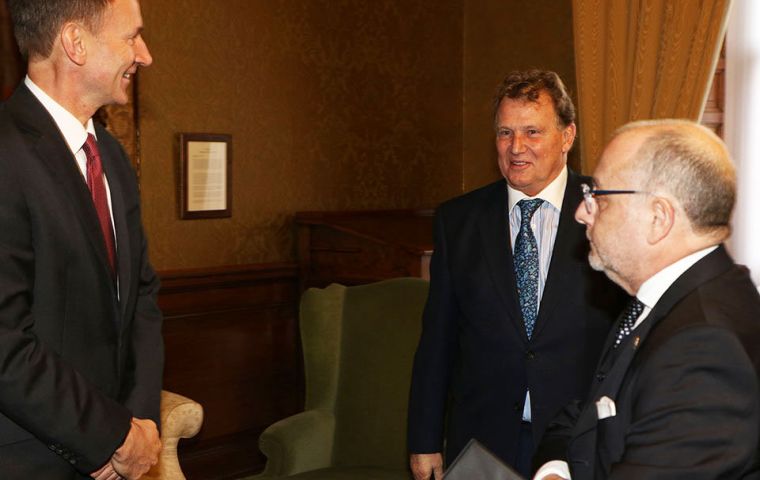 On Minister Faurie's first official visit to the UK he held talks with his counterpart, Jeremy Hunt, on the most salient issues of the broad bilateral agenda.
On what was the first day of his visit to the UK, Argentine Foreign Minister Jorge Faurie, accompanied by Ambassador Carlos Sersale, was hosted this morning in London by his British counterpart, the Secretary of State for Foreign Affairs and the Commonwealth, Jeremy Hunt, with whom he held talks on bilateral matters in a meeting at the Foreign & Commonwealth Office. Alongside Hunt in the meeting was Alan Duncan, Minister of State for Europe and the Americas.
Faurie and Hunt agreed on the importance of Argentina and the UK, who share a long-standing bilateral relationship, continuing to consolidate this new stage in relations, making tangible progress in developing mutual trust. The pair agreed that meetings held over the last three years at the highest level between officials from the two countries have proved key in this regard.
The Foreign Ministers praised the governments' collaboration and agreements reached (including those between research institutes and academies), as well as that of the private sector in both countries, in various matters such as public health, industrial innovation and scientific-technical cooperation. They also applauded progress made in cooperation and joint research in the Antarctic.
In economic terms, with a trade surplus for Argentina, they pointed to the enormous potential for developing mutually beneficial opportunities, and agreed to bolster bilateral efforts to secure greater cooperation between governments and the private sector, by promoting exports and greater investments in strategic sectors such as infrastructure, energy, mining, telecommunications and agribusiness.
Remaining mindful of the historic differences over the Malvinas Islands Question, the Argentine Government continues to propose a substantive and constructive dialogue with the UK, and both Foreign Ministers agreed to continue working to reach an understanding on flights that will enable better connections between the mainland and the Islands.
Finally, the pair discussed the upcoming G20 meeting and Prime Minister May's visit to Buenos Aires for the Summit.