EC tells Italy to revise its budget but ruling populists vow to go ahead with electoral promises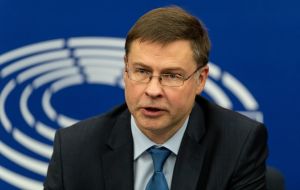 The European Commission has told Italy to revise its budget, an unprecedented move with regard to an EU member state. EC is worried about the impact of higher spending on already high levels of debt in Italy, the Euro zone's third-biggest economy.
Italy's governing populist parties have vowed to push ahead with campaign promises including a minimum income for the unemployed. The country now has three weeks to submit a new, draft budget to Brussels. The Commission said the first draft represented a "particularly serious non-compliance" with its recommendations.
Commission Vice-President for the Euro Valdis Dombrovskis said Italy's response to the commission's concerns was "not sufficient" to assuage fears and the euro's rules were the same for everybody.
The new populist government has vowed to "end poverty" with a minimum income for the unemployed. Other measures include tax cuts and scrapping extensions to the retirement age - fulfilling several key campaign promises from the election in March.
A defiant Prime Minister Giuseppe Conte insisted earlier that the budget deficit would go no higher than 2.4% of GDP, although the target is three times than that of the previous government.
The government argues that servicing its debt of 131% of national output - second only to bailed-out Greece - would hurt Italians, who have still not recovered from the decade-old financial crisis. Italy's economy is still smaller than it was in 2008. The governing League and Five Star parties argue an increase in spending would kick-start growth.
Italy's neutral Finance Minister, Giovanni Tria, and international observers had hoped the country would keep its deficit under 2% - perhaps as low as 1.6%. While 2.4% falls well short of the 3% deficit limit under Euro zone rules, Italy's debt level is alarming.
"For the first time the Commission is obliged to request a Euro area country to revise its draft budgetary plan but we see no alternative than to request the Italian authorities to do so," Mr Dombrovskis said.
He pointed out that Italian taxpayers were having to spend as much servicing the national debt as on education. "Breaking rules can appear tempting at the first look - it can provide the illusion of breaking free," he said.
After Italy announced its draft budget last month, weeks of market turmoil followed.
Before the Commission announced its rejection of the Italian budget on Tuesday, European shares fell to their lowest levels in nearly two years.