Mapuche demands freeze Chinese wind energy project for Bariloche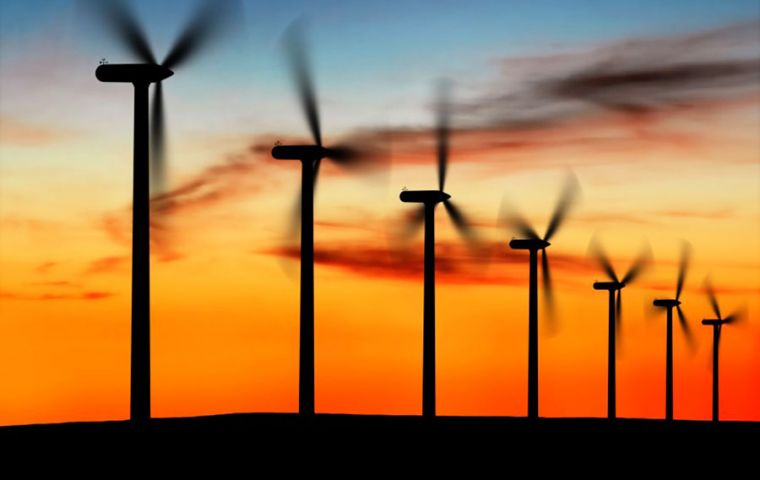 A Chinese renewable energy investment in Patagonia was halted after no agreement could be reached with the small mapuche community living where the wind turbines were going to be installed.
China's Envision Energy SA had vowed to invest 56.7 million US dollars in Cerro Alto in the province of Rio Negro, 85 kilometres from Bariloche.
In 2016 the company had won the tender in the first round of the RenovAr programme. The plan included 28 wind turbines capable of producing two megawatts each. It would have also meant 300 temporary jobs.
The energy was going to be injected into Bariloche's high voltage line. But the Wefu Wechu mapuche community demanded a 32 kw parallel line was built to supply their settlements in exchange for their consent. In addition to the electricity supply, the mapuches reportedly wanted "their slice" in cash, similar to what happenned with the Vaca Muerta oil drills.
According to an international labour convention on indigenous peoples it is not possible to go over the decision of the aboriginal communities when the business projects touch their ancestral lands. The mapuches claim Cerro Alto is imbued with a special "energy."
And the Chinese company was unwilling to afford the extra cost, estimated at 500,000 US dollars plus the delays it would cause to their schedule.
Promises to install compensatory lines at later dates did not convince the Wefu Wechu community.
The Cerro Alto project took yet another blow due to the delays in the World Bank's warranty, a condition required by the Envision Energy Board of Directors of to mitigate the risks of landing in Argentina.
The Chinese firm has similar projects in García del Río (Buenos Aires), Vientos del Secano (Buenos Aires) and Los Meandros (Neuquén).
The company is also said to be focusing on their more hurdle-free Mexican undertakings at the expense of those in Patagonia.
According to the original agreement, Cerro Alto was to be supplying energy by March 2019, something that will not happen and for which the Chinese company has been fined 10 million US dollars by the federal government.