Riots outside, and insults inside as Argentine Congress discusses austerity budget
Thursday, October 25th 2018 - 06:10 UTC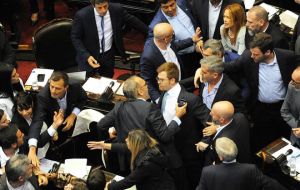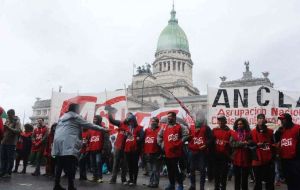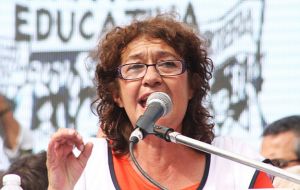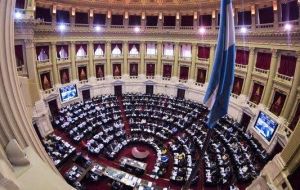 Protesters opposed to proposed austerity measures clashed with police outside Argentina's Congress on Wednesday as lawmakers discussed next year's budget. Dozens of people threw rocks while police in riot gear responded with rubber bullets and water cannons. Local television said that at least twenty-seven people have been detained but there were no confirmed reports on injuries.
Inside the building the session in the lower house was temporarily suspended after some lawmakers scuffled and exchanged insults.
The protest was organized by labor unions and includes teachers and other workers. They are against a budget plan that includes tax hikes, government cuts and other austerity measures aimed at eliminating the fiscal deficit next year.
President Mauricio Macri made this commitment as part of a US$ 57.1 billion bailout package with the International Monetary Fund.
"No to the IMF budget. Don't cut our future!" shouted demonstrators outside while, inside the chamber, feelings ran high as lawmakers jostled and traded insults. Two lawmakers who arrived for the vote were affected by the tear-gas and the session was paused to allow them to recover.
Macri's Cambiemos, or "Let's Change," coalition lacks a majority in the lower house but analysts said it is likely to get support from some factions of the Peronist opposition to pass the budget, which includes a combination of spending cuts and tax increases.
"It's a brutal adjustment," said Sonia Alesso, leader of the teacher's union, which began a 24-hour strike on Wednesday in protest at education cuts.
Macri has pledged cuts of US$ 10 billion in sectors running from health, education and science to transportation, public works and culture.
"These are savage cuts," said Axel Kiciloff, economy minister in the previous populist government of Cristina Kirchner. "Voting for this budget would guarantee hunger for Argentines," said opposition MP Leonardo Grosso.
Macri is trying to halt economic turmoil that has sharply depreciated the Argentine peso. His government's decision to lay off thousands of workers and slash some subsidies has sent utility bills and transportations costs soaring and fueled labor unrest.
The national deficit was 3.9% of GDP last year. The government plans to get it down to 2.7% in 2018 and zero by the end of next year. The peso has lost half its value against the dollar this year but the Central Bank has largely stopped the rot by hiking interest rates to a world record 72 percent.
South America's second-largest economy has also been badly hit by drought that has damaged crop yields in the vital agricultural sector. Argentines also continue to lose purchasing power to an annual inflation of more than 40%, and an economy forecasted to contract 2.4% this year and 0.5% in 2019.