Argentina seeks extension on due Bolivian gas bills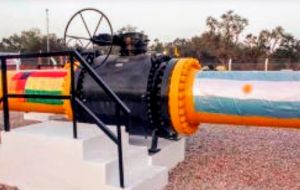 Argentina's cooking gas company Integración Energética Argentina S.A. (formerly Enarsa) has asked Bolivia's Yacimientos Petrolíferos Fiscales Bolivianos (YPFB) for an extension to pay up the bills for the past two months plus interests due since 2007, it was reported.
"We are going to apply all the elements in the contract to be able to guarantee the payment of the gas that we sell to Argentina," YPFB's Luis Alberto Poma told reporters.
Meetings between officials from the two companies started last week and will continue in order to redefine a payment scheme for past debts, according to Poma, who also admitted Argentina is honouring the current contract with no delays.
In a public statement earlier this month, Bolivia's Hydricarbons Minister Luis Alberto Sánchez explained the total debt
amounted to 453.4 million US dollars, of which two million were paid last week.
Sanchez said that Argentina owes Bolivia 50 million US dollars as interests for the period 2007-2017, and an additional 5.4 million for 2018. Argentina has two upaid gas bills: one for 265 million US dollars and the second of 133 million.
Under these curcumstances, Argentina's Energy Secretary, Javier Iguacel, is pushing to modify the contract with Bolivia and import smaller volumes of gas.
According to Argentine officials, Bolivia has had a drop in its gas output and has subsequently failed during 2018 to deliver the quantities set forth in the contract, which expires in 2026.