Ultra-Rightist Jair Bolsonaro, President-Elect of Brazil
Monday, October 29th 2018 - 00:08 UTC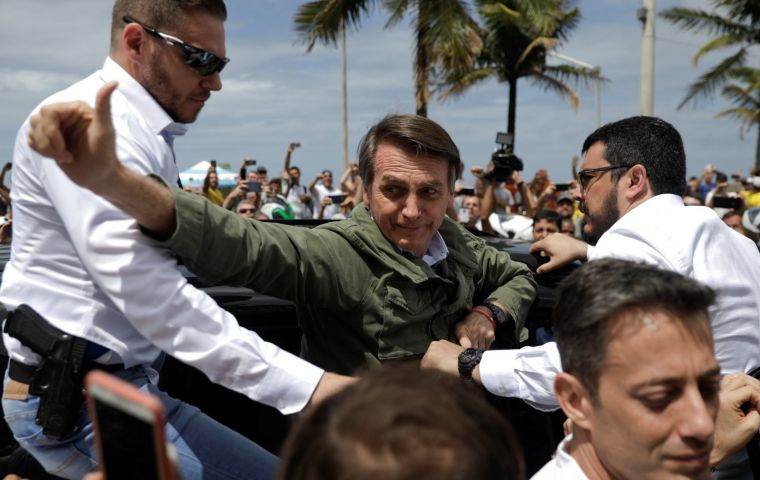 Jair Bolsonaro, a nostalgic of the Brazilian military dictatorship, has been chosen as the new president of the largest economy in Latin America after one of the most divided and tense campaigns in the history of the country obtaining 55% of the votes after the scrutiny of more than 99% of the polls.
With 55.2% of the votes against 44.8% of his rival, the progressive Fernando Haddad, the former captain of the army becomes the new president-elect of the country, position that will begin to exercise from January 1 2019
Bolsonaro, a 63-year-old former army paratrooper, managed to capitalize on the disappointment and anger of a population hit by years of recession and stagnation and weary of corruption scandals.
The political system and the party that has ruled Brazil for 13 of the last 15 years, the Workers' Party (PT), are the main figures that led to Bolsonaro's anti-system discourse having broad acceptance among voters.
Facing the second round, Bolsonaro, candidate of the Social Liberal Party (PSL), adopted a more friendly speech to try to reach the votes of the center. However, the populist could add 10 points of advantage over Haddad without much effort, campaigning from home after the stab he suffered during a street rally in early September.
Today's vote, which called 147.3 million Brazilian voters to the polls, occurred without major incidents.
A confident Bolsonaro had started as a big favorite in the polls. After depositing his ballot in Sao Pablo, Haddad had asked for the vote to remove "the ghosts of dictatorship and hatred" in Brazil, personified by the ultraconservative candidate.