Hundreds pay tribute to Leicester City owner who died in helicopter crash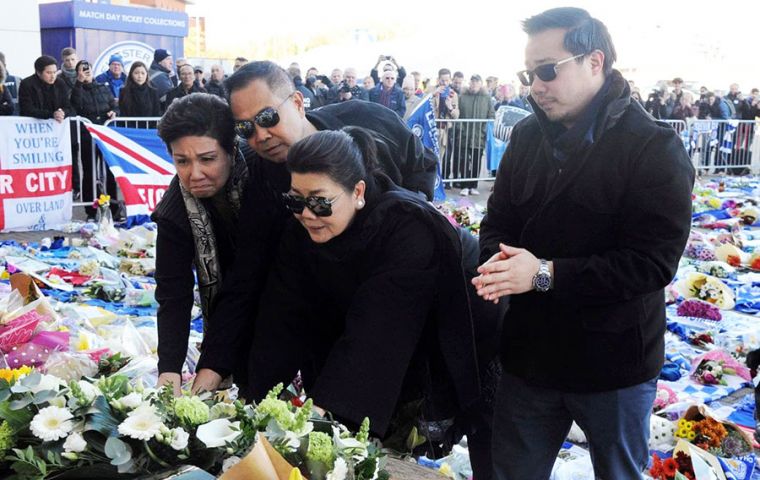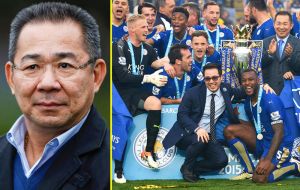 Leicester City owner Vichai Srivaddhanaprabha's wife and son have joined the English Premier League outfit's players and hundreds of fans at the club's stadium to pay tribute to the victims of a helicopter crash which killed Mr. Srivaddhanaprabha and four people.
The Thai businessman's wife Aimon and son Aiyawatt laid a wreath in the centre circle and then hugged and shook hands with the gathered players and coaching staff.
All five people aboard the helicopter, including two of Mr Srivaddhanaprabha's staff, and the pilot and co-pilot, were killed in the crash, which happened shortly after take-off approximately an hour after the club's game against West Ham on Sunday.
Leicester City's first-team squad, including big-name players Jamie Vardy, Kasper Schmeichel and Harry Maguire, gathered on the pitch to offer their support to the billionaire's family.
Mr Srivaddhanaprabha was a popular figure in Leicester after buying the club in 2010, taking it from the lower tiers of the competition to a fairytale Premier League title in the 2015/ 2016 season and into the quarter-finals of the Champions League.
He was also well renowned for his charity work in the East Midlands city, including making donations to the local hospital.
The players were united in their grief, offering messages of condolences to the late businessman.
"Absolutely heartbroken and devastated regarding the news of our chairman. A man that was loved and adored," Leicester City captain Wes Morgan wrote on Twitter.
Gianni Infantino, president of world governing body FIFA, also paid tribute to Mr Srivaddhanaprabha.
"FIFA extends its deepest sympathies to their families & friends & to the many football fans for whom Vichai was an integral member of The Foxes family," he wrote on Twitter.
Hundreds of people have queued outside the ground to lay toys, scarves and bouquets to remember the much-loved owner.
Leicester's first-team squad had a short training session on Monday morning but the club's fourth-round League Cup tie with Southampton, scheduled for Tuesday night (local time) at the King Power, was postponed because of the accident.
The UK's Air Accidents Investigation Branch is examining the helicopter's flight data recorder to determine the exact cause of the crash.
Pilot Eric Swaffer is being praised by witnesses of the crash, after directing the helicopter away from crowds outside the stadium.
"The pilot was heroic. That helicopter could have crashed into the stadium, into the media compound where TV crews were packing up, or into the car park where I was," cameraman Dan Cox told The Sun.
"He crashed in part of the grounds or car park where there wasn't anyone. It could have been so much worse if the pilot hadn't done that."