Peruvian powerful leader Keiko Fujimori ordered to jail on corruption charges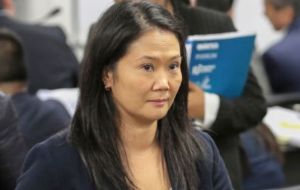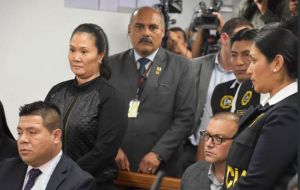 Former Peruvian first daughter Keiko Fujimori was ordered back to jail Wednesday in a case that has captured attention in a country reeling from a series of corruption scandals reaching into the highest echelons of power.
Judge Richard Concepcion ruled the 43-year-old opposition leader should be detained as a preventative measure as prosecutors investigate allegations that she led a criminal network within her party that received about US$ 1 million in illegal payments from Brazilian construction giant Odebrecht.
Fujimori has denied taking any money from the company during her 2011 presidential run and has called the investigation a political witch hunt.
In a hearing that lasted over eight hours, Concepcion said he believed there was considerable proof to strongly suspect that Fujimori not only knew about the payments but had an active role in hiding the origin of the funds.
As Fujimori looked on, her arms crossed and her lips pursed into a frown for much of the afternoon, the judge recounted information presented by prosecutors describing her as the leader of a powerful organization who plotted so that others could commit crimes on her behalf. "Undoubtedly, preventative prison is the only measure that applies," he concluded.
Concepcion ordered her jailed for 36 months, a ruling her lawyer immediately vowed to appeal.
The attorney, Giulliana Loza, argued that the chief prosecutor's case relies overwhelmingly on a witness whose account cannot be corroborated and accused Concepcion of utilizing outside information not presented by authorities.
"In this case we've never had an impartial judge," she said.
After the judge's ruling, Fujimori, who is still considered one of the most powerful people in Peru, was surrounded by a half dozen uniformed officers. Dressed in jeans in a long-sleeved black shirt, she showed no emotion as she exited the room.
Many Peruvians thought the daughter of former strongman Alberto Fujimori would never see time behind bars in a country where corruption has long often gone unpunished.
But some of the nation's most prominent politicians, including four ex-presidents, are now under investigation or charged in connection with corruption probes, and thousands of angry citizens have taken to the streets to protest official graft. A referendum on toughening anti-corruption laws is scheduled for early December.
Keiko Fujimori, came within 50,000 votes of winning the 2016 presidential election, and leads the opposition political party with a majority in congress but her influence has waned in recent months after Martin Vizcarra became president.
Fujimori has been a champion for her ailing 80-year-old father, who was pardoned by Vizcarra's predecessor last year from a 25-year jail sentence for human rights abuses during his decade-long rule. Peru's Supreme Court recently overturned the pardon and ordered him back behind bars.
Keiko Fujimori had been detained in early October as a preventative measure while the money laundering investigation but was ordered released a week later. Odebrecht has admitted to paying US$ 788 million in bribes to politicians throughout the region in exchange for lucrative public works contracts.