Falklands' right to self determination: US Congressional staffers message to their offices in Washington
Friday, November 2nd 2018 - 06:52 UTC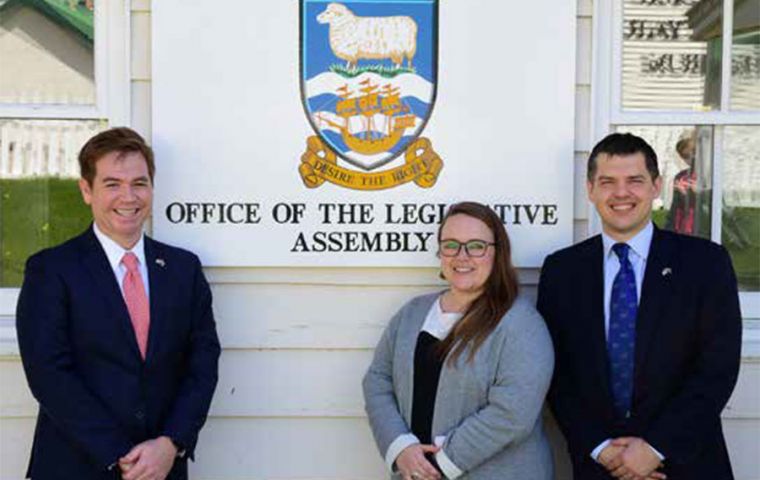 Like much of the world's population, the three US congressional staffers visiting the Falkland Islands this week admit that their preconceptions of the Falklands had been largely shaped by the conflict. Nevertheless they have a strong message to take back to their respective offices at the US Congress, the clear right to self determination of the Falklands.
The physical remoteness of the Islands for one has been a learning point, they say, and with that the appreciation of the logistical and geopolitical challenges that the Islands face on a daily basis.
But the internal challenges faced by Government have been something of a surprise, too; the manner in which the administration is called upon to fulfill the roles of national, regional, and town governments being a far cry from the highly sub-divided nature of Government in larger countries.
Not only is that separation an administrative necessity, it also gives congressional offices more freedom with which to adopt their own stance on policy issues.
One such issue is a position on the Falklands, and while the US State Department may be diplomatically obliged to adopt a neutral position, congressional offices have what they describe as a more forward-leaning approach to the Falklands issue.
It is in that context that the impressions and knowledge of the Falklands absorbed during their time here can be fed into the thinking of the elected representatives with whom they work. And those impressions, say the staffers, are of an "unmistakably independent" people.
In particular, they have been struck by the resourcefulness in the face of unique challenges.
There is plenty in common, too; the thorny matter of regulation, or how to ensure a healthy climate for business, for instance. The overwhelming message they'll take back is one of a clear right to self-determination. Part of that, they say, is overcoming the notion that some have that self determination does not apply to small populations.
The staffers group included Crawford, chief of staff for Congressman Buddy Carter of Georgia's first congressional district; Ryan Evans, foreign policy advisor to Senator Johnny Isakson; and Igor Khrestin, national security advisor to Senator Cory Gardner. (Penguin News).