Two ex Goldman Sachs bankers charged in connection to fraudulent Malaysian fund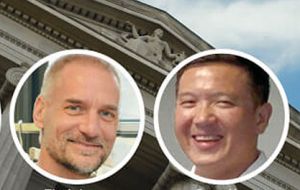 Two former Goldman Sachs investment bankers were charged on Thursday with helping to raise money for a Malaysian investment fund that has lost US$ 4 billion, according to United States federal prosecutors. Tim Leissner, 48, and Roger Ng, 51, were charged in a three-count criminal indictment in Brooklyn federal court on Thursday.
Leissner pleaded guilty to conspiring to launder money and to violate the Foreign Corrupt Practices Act. He will forfeit US$ 43.7 million as a "result of his crimes," officials said.
Jho Low, the Malaysian financier who allegedly masterminded the fraud, was also indicted, federal prosecutors said. He is at large and was last seen in China.
These are the first charges against anyone who has worked for Goldman Sachs.
The company was the primary bond underwriter for the fund, known formally as 1Malaysia Development Berhad, or 1MDB.