US economy adds 250.000 jobs, and wages rise at their fastest pace in nine years
Saturday, November 3rd 2018 - 08:24 UTC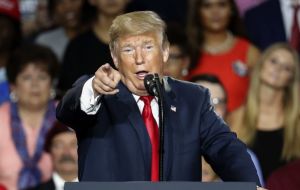 Wages in the United States grew at their fastest pace for nine years last month, the latest official figures show. The US Labor Department said wages grew at an annual rate of 3.1% in October, accelerating from a rate of 2.8% the month before. The economy also added 250,000 jobs last month, beating expectations, while the jobless rate remained at 3.7%.
The report quickly became fodder for political debate ahead of next week's high stakes congressional election.
President Donald Trump celebrated the figures on Twitter as "incredible" and urged his followers to "Vote Republican". In an unusual move, the White House also organized a briefing call for reporters to promote the gains.
The top Senate Democrat, Chuck Schumer of New York, issued a statement of his own, aiming to redirect voter attention. The latest numbers "may look good" but should be considered alongside other economic policies, he said.
"When the average family sees their health care costs go up because of Republican actions, these numbers will mean little," he said.
Among economists, there was wider agreement that the jobs report pointed to strength in the US economy, despite recent worries that weakness may be emerging in some sectors such as housing and trade.
They said a rise in the number of people entering the workforce indicated confidence in the labor market, while wage gains suggested the robust hiring climate is starting to benefit the average worker.
Average hourly earnings for all private workers hit US$ 27.30 in October, up 83 cents from a year earlier. That marked the strongest annual rise since April 2009.
"Today's jobs report is a landmark in the long recovery since the Great Recession, showing the power of a tight labor market to raise pay for American workers if allowed to run hot for a sufficiently long time," said Andrew Chamberlain, chief economist at the job website Glassdoor.com.
On average, the US economy has added 218,000 jobs a month over the last three months - well above the rate needed to keep up with population growth.
The gains in October occurred in most industries, with the healthcare sector adding 36,000 jobs, manufacturing 32,000 and construction 30,000.
Employment in the leisure and hospitality sector rose by 42,000 last month. That followed no change in September, which the Labor Department said was probably due to the impact of Hurricane Florence.
Economists said the figures all but guarantee another US interest rate rise before the end of the year.