Tower of London lit by flames to mark the centenary of the end of the First World War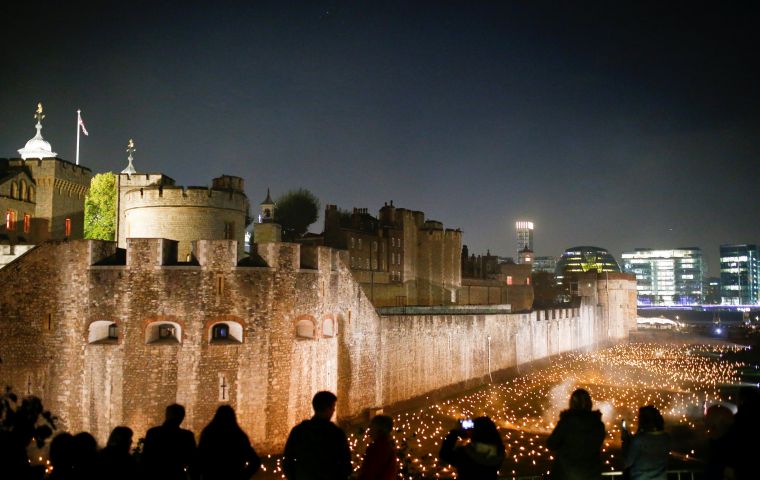 Some 10,000 flames were lit at the Tower of London to mark the centenary of the end of the First World War. Yeoman Warders, also known as Beefeaters, who have all served in the military, and representatives from the armed forces, started the process of lighting the flames at a ceremony on Sunday.
The display is to remember the sacrifice made by those who lost their lives during the First World War. Volunteers took between 40 and 50 minutes to manually light the remaining flames, gradually illuminating both the Tower of London and its empty moat.
The flames, each emanating from an individual canister, will burn for about four hours before needing to be replenished with fuel by volunteers before the next night's display.
The spectacle, named Beyond the Deepening Shadow, is accompanied by a specially commissioned sound installation featuring choral music and words from war poet Mary Borden's Sonnets to a Soldier.
Many of the volunteers for the installation also helped with the display of poppies at the landmark in 2014, according to a spokeswoman for Historic Royal Palaces, the organization responsible for maintaining the Tower of London.
The display saw 888,246 ceramic poppies placed outside the Tower of London, with each flower representing a life lost by a soldier from Britain or its colonies. Many of the volunteers have a family connection to the First World War, the spokeswoman added.
The volunteers included those who helped set up the 2014 ceramic poppy display marking the centenary of the First World War (Nick Ansell/PA)
General the Lord Houghton, Constable of the Tower, said: "The First World War claimed the lives of over 18 million people across the globe.
"We remembered them at the Tower on the anniversary of the start of the war, and it feels equally appropriate that we should again commemorate their sacrifice 100 years after hostilities came to an end.
"Many of the Tower community have served in the Armed Forces, and it is important for us to ensure that those who lived, served, fought and died during this time continue to be remembered, and that the lessons from these conflicts continue to be shared."
The ceremony, which will take place between 5pm and 9pm, will be repeated each night until Sunday, November 11. Members of the public can view the installation for free and there is also ticketed access to the moat, where the instillation can be viewed up close.