Bolsonaro stands by pensions reform bill, says it's a step in the right direction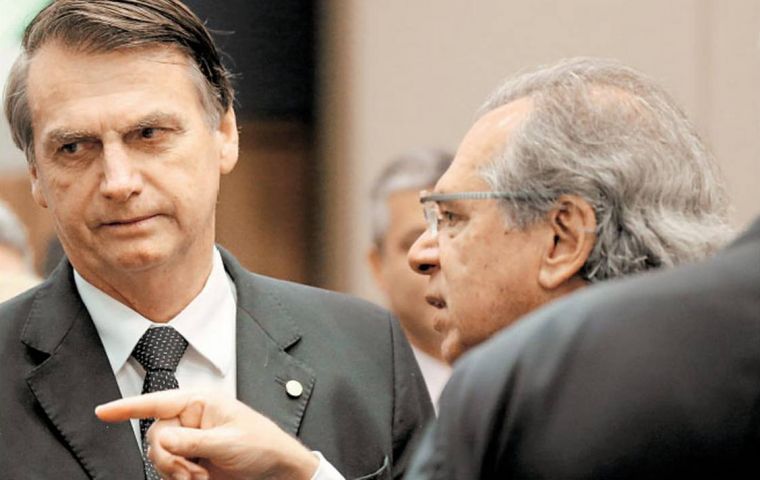 Brazil's president-elect Jair Bolsonaro was supportive Monday of a pensions reform bill already in the Lower House which is expected to be passed into law before his inauguration January 1.
"A great step, in my opinion, if it's possible this year," Bolsonaro said in a TV interview. "It's a good start to enter next year having something concrete to help us in the economy," he added.
In Bolsonaro's view, it is not possible to generalise the minimum age of 65 years for retirement because certain activities are incompatible with it. He said the military police of Rio de Janeiro was a clear example of that. In the bill within the House of Deputies, the minimum proposed age is 65 for men and 62 for women.
Bolsonaro insisted that pension reforms are among the priorities for his future government. "It's no use having a good pension proposal if it's not going to go through the House and the Senate. We want to take a step, however small, but take a step in pension reforms, which is necessary."
Bolsonaro also vowed to keep Environment and Agriculture in separate ministries. He also underlined that he alone will make his cabinet appointments.
Asked about legalising abortion, Bolsonaro explained that "my commitment is not to let it expand under any circumstances." He added that "I am against abortion, but the question of risk of death for the mother is a difficult one."
Regarding Venezuelan migrants, the president-elect said he was in favour of welcoming those Venezuelans who come to Brazil as refugees, but this reception must be combined with measures against the Venezuelan government.
"We are going to recognise the situation in Venezuela, they are fleeing from dictatorship, hunger and violence, but the federal government has to take action against the Maduro government, and not just welcome them and let things be resolved naturally."