Cristina Fernandez and "the K money route", judge asks for further information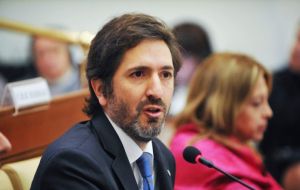 Argentine federal Judge Sebastian Casanello ruled lack of admissible evidence in the case involving ex president Cristina Fernandez de Kirchner and referred to the alleged laundering of money from public works contracts during the Kirchner couple's rule (2003/2015), better known as "the route of the K money".
According to last Friday's ruling from Judge Casanello there was not enough merit to convict or dismiss the case against Cristina Fernandez. The former president who faces several court cases was summoned last September by Casanello but denied all charges in a written document.
The Judge also requested the Argentine Unit on Financial Information, UIF, to render further data to determine whether there was a link between Cristina Fernandez and Lazaro Baez, the contractor involved in money laundering, and who from bank teller climbed to become one of the main beneficiaries of public works contracts during the years of Nestor Kirchner as governor of the Patagonia province of Santa Cruz (1991/2003), and later as president of Argentina.
According to the judge, the investigation of Cristina Fernandez has not been closed since there are elements of money laundering involving Baez companies, and further information is needed to ensure the hypothesis that the ex president has been effectively involved.
The route of the K money trial started last 30 October with contractor Lazaro Baez, in preventive imprisonment since 2016, his four children and some other twenty close aides.
The case involves the investigation of a structure of companies and overseas bank accounts set up between 2010 and 2013, which were used for laundering an estimated 60 million dollars. The investigation centers in the money obtained from public works contracts in Santa Cruz which were awarded to the Grupo Austral construction companies, which belong or figure belonging to Baez.
The route of the K money investigation was first started in 2013, when Cristina Fernandez was still Argentine president, but it really took off when Mauricio Macri was elected to head the Executive and a television channel aired a video showing the eldest son of Baez, Martin, counting huge sums of US dollars in a financial office in Buenos Aires. At the time it was practically illegal to have or hoard dollars, unless specifically authorized.
Cristina Fernandez who still faces six court cases, most of them on corruption charges, plus a request to have her Senator privileges removed so arrest orders can be made effective, has argued all along that she is the victim of judicial persecution promoted by president Macri.