S&P downgrades Argentina's long term sovereign debt from "B+" to "B"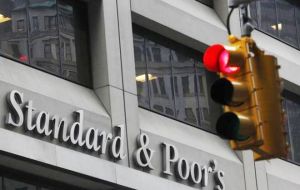 Standard & Poor's on Monday downgraded Argentina's sovereign long term credit rating from "B+" to "B" and reviewed the country's debt prospects to "stable", following on the "negative" review from last August.
The credit rating agency explained in a release that "there has been an erosion of the Argentine debt profile, of the economic growth trajectory and the dynamics of inflation following the backdrops of the implementation of a challenging economic adjustment program".
Nevertheless it said that long term rating prospects remain stable given the expectations that the administration of president Mauricio Macri will implement fiscal, monetary and other measures during the next 18 months to stabilize the economy.
S&P maintained the short term rating in foreign and local currency at "B".