Two brothers arrested in Buenos Aires likely to be linked to Hezbollah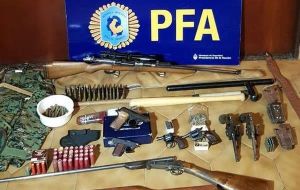 Federal Police Thursday arrested in Buenos Aires two brothers suspected to belong to a local Hezbollah cell. A sizeable number of guns with focus on sniper capabilities and proper ammunition were found at the home of one of them in the Floresta neighbourhood.
Brothers Kevin Gamal Abraham-Salomon and Axel Ezekiel Abraham-Salomon, 23 and 25 years old respectively, were tracked down by following a tip from the Argentine Delegation of Israeli Associations (DAIA) back in January.
DAIA sources explained they had received an anonymous email tip and, after due scrutiny following a special protocol for these cases, they decided they had enough evidence that the Abraham-Salomon brothers had been undergoing some sort of military training at various Middle East locations where they traveled frequently, which justified seeking the police's help. The federal authorities have since January involved anti-terrorist and special operations squads.
The anti cyberterror department checked the suspects' social media accounts and determined it was highly likely the two of them were tied to Hezbollah.
Both suspects were arrested during a raid ordered by Federal Judge Sebastián Ramos. Guns, knives and ammunition were also seized.
Investigators found the Abraham-Salomón bothers, who claimed to work as cleaning supplies traders, were knowledgeable in the use of Russian-made AK-47 rifles and had travelled to different points of the Middle East: Qatar, the United Arab Emirates abd Turkey over the past few years.
Argentina and Buenos Aires are concerned about any terrorist activity as the G-20 Summit is to take place late this month.
Two bomb attacks were unsuccessfully carried out this week, one at a cemetery and one at a judge's home. All perpetrators are in custody and ten additional people were arrested as alleged accessories to the attacks. Security Minister Patricia Bullrich has said that in her view both cases are connected.
Buenos Aires is the only South American city ever to have been attacked by Middle-East linked terror. And it happened twice. Bombs went off at the Israeli embassy in 1992 and at the Argentine-Israeli Social Work Association (AMIA) in 1996.