Key Chinese nuclear weapons developer dies aged 100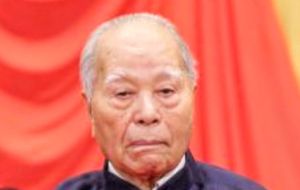 Cheng Kaijia, the nuclear physicist behind China's nuclear weapons programme, has died in Beijing at the age of 100, it was reported Saturday.
He is said to have equipped China with "the deadliest and most devastating weapons on earth," according to a press report.
Cheng was actively engaged in the research, development and tests of the first Chinese nuclear bombs at "theoretical, technological and methodological" levels, according to the HLHL Foundation, a Hong-Kong-based NGO, which awards prizes to Chinese scientists.
He is credited with solving one of the key problems behind any nuclear bomb development by creating a theoretical model of the mechanism of the inner explosion of the atomic bomb.
In 1960, he also calculated the temperature and pressure at an epicenter of a nuclear explosion without the help of any computerised system, which did not exist in China in those days and four years later, he took part in China's first nuclear bomb test and that of the hydrogen bomb in 1967.
He also studied the effects of nuclear explosions and actively fostered a research programme aimed at mitigating some of these effects such as high power microwave or initial nuclear radiation.
Beijing awarded him with China's top science award in 2014 and its highest military honour in 2017.