Asylum to Alan García: Why Uruguay?
Monday, November 19th 2018 - 18:17 UTC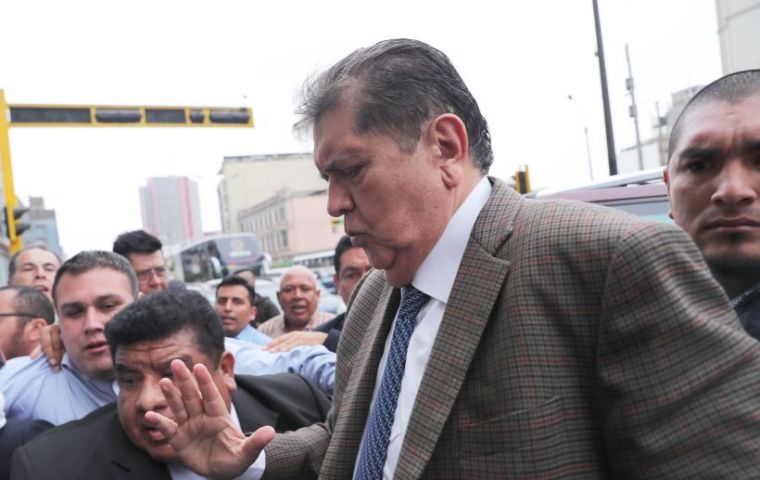 The Territorial Asylum right under which Peru's former President Alan García seeks to protect himself, investigated by the Justice of his country, is framed in a convention signed in Caracas, Venezuela that provides that every State belonging to the Organization of American States (OAS) has the right to admit "the persons it deems appropriate." Garcia's hope is based on Uruguay's record of respect for this right.
Asylum implies an exceptional right for those who consider themselves persecuted politically. However, the treaty states that "it is not lawful to grant asylum to persons who, at the time of requesting it, are indicted or prosecuted in a manner before competent ordinary courts."
Garcia is being investigated in the Odebrecht case for allegedly accepting bribes paid by the Brazilian construction company. Reason by which the Peruvian Justice had prohibited on Saturday that the former president left the country during 18 months.
For its part, Uruguay complied with the protocol by requesting information from the Peruvian State about the situation of the person who requested the request before proceeding with the official acceptance of García's request, which has been answered affirmatively by the foreign minister. Rodolfo Nin Novoa in Montevideo awaiting the information that the government of Martín Vizcarra promised to send in the next few hours.
"Uruguay has a long tradition of asylum," Novoa told El Comercio on Sunday.
This tradition has led Uruguay to grant political asylum in 1959 to a hundred Cuban politicians of the government of Fulgencio Batista, after the Fidel Castro revolution triumphed; a former Paraguayan defense minister in 1999 in times of political uprisings, two Venezuelan captains after the failed coup d'état against Hugo Chávez in 2002 and - as the last granted asylum - to a lieutenant of the Venezuelan regime in 2005 who claimed he was being persecuted by the government of his country.
This was explained by García's lawyer, Mr. Erasmo Reyna, by indicating on Monday that his client requested political asylum in Uruguay because of the "democratic vocation of the government and of the entire country in general."
The treaty signed in Caracas in 1954, despite not having achieved sufficient ratifications, must be obeyed by Peru and Uruguay to be both signatories. However, Peru is not obliged to grant a safe passage permitting García to be transferred from the residence of the Uruguayan ambassador in Lima to the River Plate country.