Stranded Le Soleal cruise passengers fly home; Cruise line reviews schedules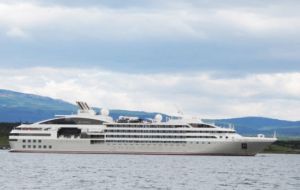 The 222 passengers of the stranded Ponant's Le Soleal cruise vessel finally left from Punta Arenas airport over the week end terminating their several days unexpected adventure which started last Wednesday when the vessel suffered damages in attempting to reach the port of Natales, in southern Chile.
In effect last Wednesday, when Le Soleal was accessing the Kirke passage leading to Puerto Natales, it scraped the bottom of the fiord affecting a propeller, shaft and seal, leaving the vessel stranded but with everybody on board safe and sound. There was a quick support response from the Chilean navy and on Friday a tug helped her some twelve kilometers to the bay of Puerto Natales where she anchored.
Passengers were given the option to visit the city or travel to the Torres del Paine national Park and later spent the night on board. The following day passengers were transported by bus to Punta Arenas from where they flew back home. 30 passengers went to Ushuaia to reach Le Lyrial for a 10 day trip to Antarctic.
Meanwhile Le Soleal will remain in Puerto Natales until it receives authorization from the Chilean navy and port authorities to sail to a dry dock for repairs where a new propeller will be installed.
According to a release from Ponant Le Soleal will be back in full service on 30 November but the 20 November cruise scheduled to leave from Ushuaia has been cancelled, and the company has been contacting passengers "to offer alternatives along with good gestures".
Ponant in a release points out that when Le Soleal was sailing through the Kirke passage and suffered a technical incident she "was under the control of a Chilean pilot, onboard to comply with maritime regulations".