"Car Wash" anti corruption team will work with Brazil's incoming Justice minister
Wednesday, November 21st 2018 - 09:23 UTC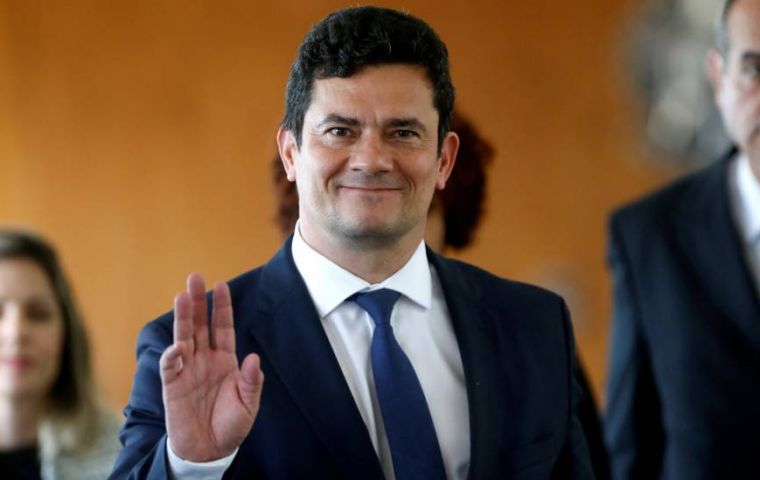 Brazil's incoming justice and security minister Sergio Moro announced on Tuesday he was recruiting part of his team from the massive "Car Wash" anti-corruption probe that snared former president Lula da Silva. Moro said he would be a "fool" not to work again with people he had worked with on the Car Wash investigation as they "have already proven their integrity and efficiency."
He told reporters in Brasilia that he was nominating Mauricio Valeixo as Brazil's federal police chief. Valeixo was state police chief in Parana when Moro began the Car Wash investigation in 2014 and was also in charge of the police operation to detain Lula on Moro's orders in April.
Moro also confirmed Commissioner Erika Marena, who played a leading role in the investigations that sparked the Car Wash inquiry, will be put in charge of the Department of Asset Recovery and International Judicial Cooperation.
Marena controversially commanded a recent botched police operation but received Moro's backing anyway. She ordered the arrest of the rector of a major university in southern Brazil for embezzlement. He pleaded not guilty, and was soon released but suspended from his job and banned from returning to work.
A few weeks later, he committed suicide by throwing himself off the seventh floor of a shopping center in Florianopolis with a message in his pocket: "They decreed my death when I was expelled from the university."
Questioned about the episode on Tuesday, Moro gave Marena his backing, saying: "It was a tragedy. Something tragic. All solidarity to the rector's family, but it was an unforeseen misfortune in the investigation -- the commissioner has no responsibility in that regard."
Since it was launched in 2014, the sprawling Car Wash probe has uncovered the large-scale looting of state oil company Petrobras, and landed a long list of corrupt politicians and business executives in jail. Although politicians of all stripes have fallen in the sprawling investigation, Moro has been accused of being particularly merciless on the left -- especially with Lula.