Brazil president elect party wants to ensure the biggest bloc in the Lower House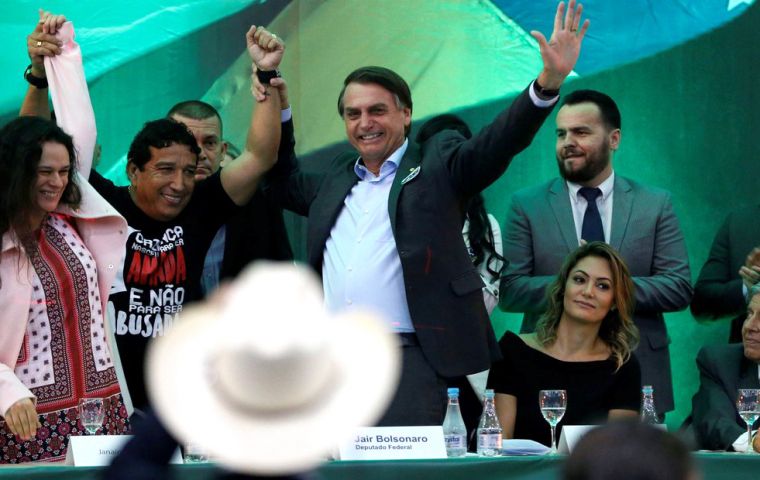 Brazil President-elect Jair Bolsonaro's party expects to recruit members from rivals in the Chamber of Deputies to form the biggest bloc with 61 seats, lawmakers said on Wednesday.
The Social Liberal Party (PSL) was a political minnow before Bolsonaro's election victory last month, which turned it into the second biggest party in the lower house, which has over 500 seats, behind the leftist Workers Party (PT).
After a party meeting on Wednesday, elected PSL Congressman Marcelo Alvaro Antonio told reporters the aim was to overtake the PT, which won 56 seats.
"I believe we can reach 61 deputies," he said. "Sixty-one is our projection."
PSL Congressman Major Olimpio said he expected the party to have the most seats in the lower house after a window that allows lawmakers from parties with fewer seats to switch affiliation.
"We have a lot of respect for all the parties," said Olimpio. "We know that there will be a mini-window, and at that time, we will respectfully make the invitation to parliamentarians who have the same ideological alignment, the principles of the Bolsonaro government."
Alvaro Antonio said no decision had been made on who would lead the lower house.
"This issue of the lower house presidency is still being discussed, both internally and with other parties as well. So there is nothing definite," he said.
Last month, PSL leaders said they were willing to accept congressional leaders from centrist parties, as they sought to build goodwill to pass tough legislation.