Falklands second commercial flight agreed: Sao Paulo with a stopover at Cordoba, says Ambito Financiero
Thursday, November 22nd 2018 - 10:00 UTC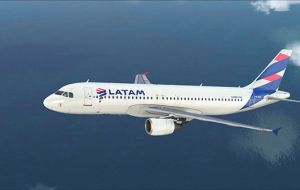 The second commercial flight from the Falkland Islands to a third country in the region with a stopover in an Argentine airport has been agreed, according to reports in Ambito Financiero, a Buenos Aires financial daily.
Allegedly the decision was arrived following talks at the beginning of the month in Buenos Aires between Argentine officials and British and Falklands' delegates. After much discussion the stopover for the Latam Brazil flight to Sao Paulo will be the City of Cordoba in central Argentina. Argentines insisted in Buenos Aires but apparently the Falklands representatives feared an avalanche of tourists from the Argentine capital.
Under the agreement Latam Brazil will be operating an Airbus A 320 on a weekly basis from Sao Paulo in a direct flight to Mount Pleasant Complex in the Falklands. The third week of each month it will call at Cordoba en route from Sao Paulo, and will make a similar call on the return flight of the fourth week. A similar arrangement to that with Latam Punta Arenas/MPC and the call in Rio Gallegos.
Whatever the decision it was not confirmed or denied by the Argentine foreign ministry.
"What rests to decide now is the politically correct moment to make the official announcement", indicated the Ambito Financiero report. And speculates "why not on the sidelines of the G20 leaders' summit in Buenos Aires at the turn of the month, when Argentine president Mauricio Macri and Prime Minister Theresa May will be meeting".
Despite discarding Buenos Aires City Ezeiza and Aeroparque terminals for the stopover, Ambito Financiero argues that Córdoba, although more expensive for ticket holders, is not a bad choice since the local airport, Ambrosio Taravella, has become an international and domestic hub.
In effect according to numbers supplied by Aeropuertos Argentinos 2000, which has the concession of the Cordoba terminal, the traffic in nine months of 2017 was over two million travelers, 32% higher than in the same period of 2016 and 49% over 2015. That works out at some 7.700 passengers per day at the Cordoba hub.
The process for a second commercial flight between the Falklands and a third country, preferably from Mercosur, was established in the Joint Communiqué of 13 September 2016 agreed by Argentina and the UK.
In effect, Point 10 of the communiqué referred to the South Atlantic establishes that: In accordance with the principles set out in the 14 July 1999 Joint Statement and Exchange of Letters, both sides agreed that further air links between the Falkland Islands and third countries would be established. In this context they agreed the establishment of 2 additional stops per month in mainland Argentina, one in each direction. The specific details will be defined.
According to Ambito Financiero the specifics have finally been defined, only waiting to be announced.