Argentina announces the name of its 104 combatant buried in the Falklands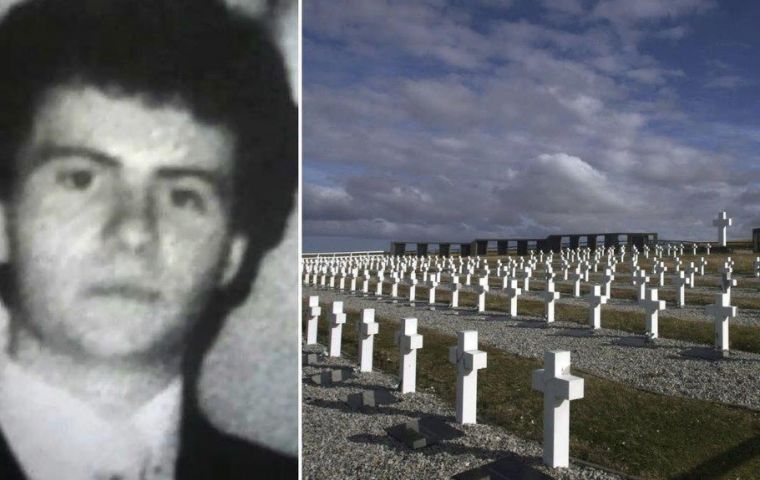 Argentina announced the full name of the 104th combatant whose remains are buried in the Falkland Islands Argentine military cemetery at Darwin. According to the Human Rights Secretariat, conscript Fabricio Edgar Carrascull, born in Cordoba province was 18 when he died at the Goose Green battle on 28 May 1982.
Fabricio Edgar's sister Elanor was notified of the positive identification, as a result of the Humanitarian project Plan coordinated by the International Committee of the Red Cross.
"In the framework of the Malvinas Humanitarian Project Plan, the Human Rights and Cultural Pluralism Secretariat communicates the positive identification of Fabricio Edgar Carrascull, who this way becomes the Argentine soldier number 104 in localized at the Darwin military cemetery", reported the office of Claudio Avruj.
"The world is looking at our work, but the most important is of offer the families the reply of identifying their beloved ones. We are pleased and proud of the work done", said Avruj head of the Human Rights Secretariat.
When the identification task was initiated with an international team of forensic anthropologists under Red Cross guidance, at the Argentine military cemetery in Darwin, the number of gravestones reading "Argentine soldier, only known unto God" was 122, but now this has been drastically reduced, only eight remain to be identified.
The humanitarian task of giving names to the remains followed on an agreement reached by the Argentine and UK governments with the consent of the Falkland Islands elected authorities.