Royal Navy retains patrol ships for Fishery Protection in post Brexit scenario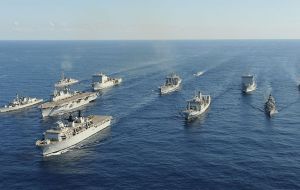 UK Defense Secretary Gavin Williamson has secured the protection of British home waters by announcing he will retain three of the Royal Navy's patrol ships. The future of the Batch 1 Offshore Patrols Vessels (OPVs), HMS Tyne, HMS Mersey and HMS Severn, which currently support the Fishery Protection Squadron, have been secured ahead of the Brexit negotiations for Britain to withdraw from the European Union.
They will be retained for at least the next two years to bolster the UK's ability to protect our fishing fleet as well as our shores. The Royal Navy currently provide around 200 days of fishery protection a year. The Defense Secretary's announcement means that the Royal Navy will now have the capacity to deliver up to 600 days of fishery protection a year if needed.
Mr. Williamson has announced that each ship will forward-operate from their namesake rivers – from Newcastle, Liverpool and the Cardiff area respectively – to boost rapid responses in British waters up and down the nation. The versatile ships are also vital to the Royal Navy's anti-smuggling and counter-terrorism work, and frequently escort foreign vessels, including those from Russia, through the English Channel.
Speaking on board patrol vessel HMS Tyne, Defence Secretary Gavin Williamson said: "Britain's patrol vessels are essential to protecting our waters, our fisheries and our national security. Safeguarding the future of these three ships in the Royal Navy will ensure we can respond quickly to incidents at any time, further protecting our waters as we exit the EU.
"By forward-operating these ships from their affiliated locations across the country, including the Tyne, it will not only allow them to react quickly, but also strengthen the bonds between the Royal Navy and local communities."
Just last month, HMS Tyne monitored a Russian frigate as it passed through the English Channel, while last year, HMS Mersey returned from a 48,000-mile deployment where she played a key part in a £12million drugs bust off the coast of Nicaragua and helped combat the migrant crisis in the Mediterranean.
The ships also deter illegal pollution activity and provide emergency firefighting capabilities for ships in distress.
HMS Tyne, HMS Severn and HMS Mersey are each operationally available for 320 days a year. The ships are armed with a 20mm cannon, which can fire 700 rounds a minute at a maximum effective range of 1300 yards and can travel at up to 20 knots.
They will also be bolstered by five new-generation Batch 2 Offshore Patrol Vessels over the next two years. The Royal Navy is expected to have all the Batch 2 OPVs, named HMS Forth, HMS Medway, HMS Trent, HMS Tamar and HMS Spey, by the end of 2020. They will be able to enhance UK efforts to counter terrorism, combat people and drug smuggling and promote the interests of Global Britain around the world.