Argentine printing company lands at Colonia's free trade zone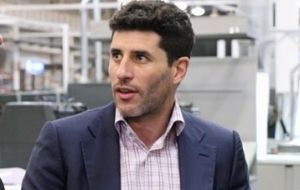 The Arcángel Maggio printing company has announced plans to invest US $ 6 million to produce school books and novels for the Spanish-speaking market (except Uruguay) from Colonia's free-trade zone in a 4,000 square meter plant due to start operating in February, 2019.
The 89 year old Argentine business prints between 30% and 40% of the books sold in Argentina and some of the most famous magazines in the country such as ¡Hola! and Gente. Production takes place in an 8,400 square meters plant in Buenos Aires with 220 employees.
"We already have in Colonia a rotary one-colour printer for books and by the end of December a German eight-color printer is due to arrive Towards the first days of January will arrive the last machine, a Swiss binder ", detailed Christian Socin, general manager of the firm. With the equipment installed, the plant would start operating in February.
Facing this stage, the company has already started the recruitment process. "The idea is to start with 25 or 30 workers but after a year we hope to reach three production shifts and 90 employees," Socin anticipated.
The plant in Uruguay is the company's first outside Argentina. All previous foreign developments in Chile, Brazil and Bolivia involved local partners.
At first, Arcángel Maggio explored the possibility of reviving the Pressur facilities in Nueva Helvecia, but in the end the Colonia free trade zone was preferred to better compete with other countries and reach markets such as China, Spain, Peru and Colombia.
The company's expansion plans also include a 2.5 million euro machine in Buenos Aires. «Our idea is that the plant in Uruguay will boost that of Argentina," Socin explained as the printing press in Colonia will double the company's output capacity.
Although automation and digitization are revolutionizing the industry, making human intervention less necessary in terms of the number of workers nedded, Socin views the biggest "threat to the business is digitalization," but due to the "type of product that we make today in Argentina and that is produced in the world, we still see market for at least 10 or 15 years."