Brazil president-elect Bolsonaro's colostomy surgery postponed until mid January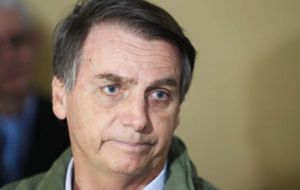 Doctors treating Brazil president-elect Jair Bolsonaro said in a Friday statement they have delayed removing his colostomy bag and that his intestines remain inflamed, though he is in overall good health after being stabbed in a September assassination attempt.
Bolsonaro was nearly killed in the Sept. 6 attack during a street campaign rally. Doctors at the Albert Einstein hospital said they will examine him again in January, after he takes office, to determine when they can remove his colostomy bag.
The announcement was done following the president elect visit to the Albert Einstein hospital in Sao Paulo, where he underwent a raft of lab exams, imaging and physicians consultations. The original surgery was scheduled for 12 December but now has been delayed until January, after Bolsonaro takes office on New Year.
The medical release said that the president elect condition was clinically satisfactory and evolution was "optimal". However his peritoneum was inflamed and thus the multi professional decision to postpone surgery. The recovery period is estimated between seven and ten days.
Following the three and a half hours examinations in Sao Paulo, Bolsonaro flew back to Rio do Janeiro.