Lula, Dilma and several ministers formally accused of receiving corruption money
Saturday, November 24th 2018 - 09:05 UTC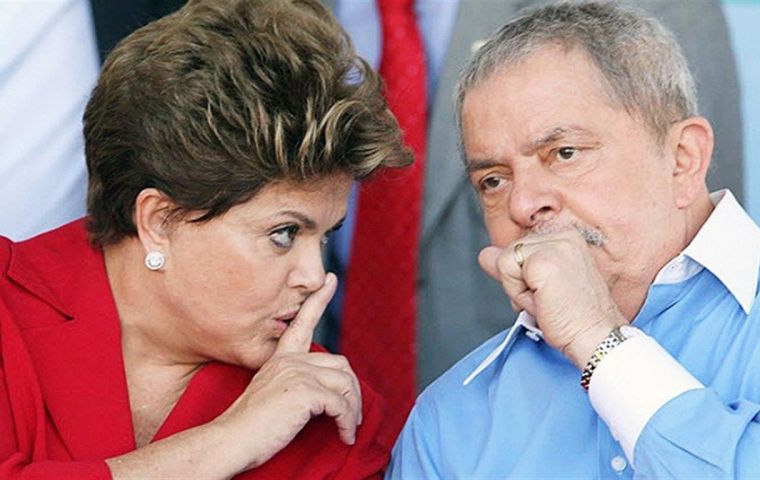 Brazil has opened criminal proceedings against former leaders Lula da Silva and Dilma Rousseff for allegedly receiving bribes with money diverted from state-owned oil giant Petrobras. The Workers Party (PT) of the two ex-presidents has strongly denied the charges, calling them a "scandalous maneuver" with partisan motives.
In addition to Lula and Rousseff, the PT's current president and several former ministers are implicated. They are Joao Vaccari Neto and ministers Antonio Palocci and Guido Mantega.
Attorney General Rodrigo Janot filed a complaint last year alleging the accused conspired to form a criminal organization that received 1,480 million Reais (some US$ 390 million) of bribes in money diverted from the state.
His filing was accepted by the Federal Court on Friday, which asked the accused to present their defense within 15 days. If finally sentenced, the accused would have to spend three to eight years in jail.
They are the first criminal charges to be brought against Rousseff, who came to power in 2010 and was re-elected in 2014 before being impeached in 2016 for allegedly manipulating public accounts.
Lula is currently serving a 12-year-sentence for accepting a seaside apartment as a bribe during his 2003-10 presidency. He also has at least three other proceedings before the courts, pleading innocent to all the charges and denouncing them as political persecution.