Argentina targets a strong global stability message at the G20 leaders' summit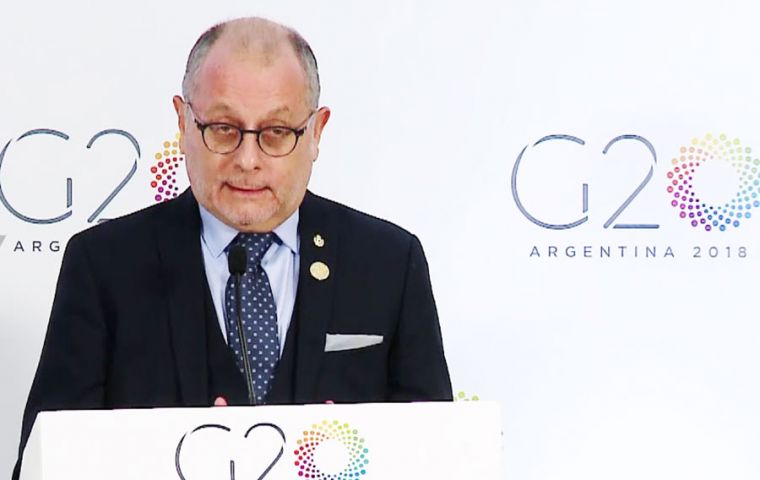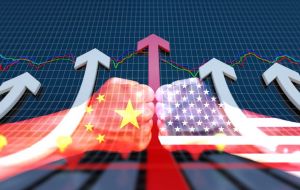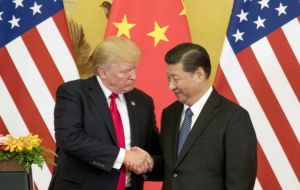 With international tensions on trade set to come to a head at the Group of 20 Leaders Summit next weekend, Argentina is hoping to find agreement on improving global stability, even if deep disagreements remain. Foreign Minister Jorge Faurie said the November 30-December 1 meeting in Buenos Aires should stress the importance of trade itself, at a time that the former consensus against protectionism breaks down.
"We are putting a focus on the situation of trade, just to make sure that it grows, that it is stable and that this vision is shared by the principal actors," Faurie said. "We have to encompass all the views to be able to find common ground for everyone."
The United States and China, the world's two largest economies, have an escalating trade war as US President Donald Trump vows to protect domestic industry as part of his "America First" philosophy.
Trump has cast his G20 meeting with Chinese President Xi Jinping as a deadline for Beijing to lessen trade barriers or face even more intense pressure. Trump said this week he "had been preparing for it all my life."
The G20, a club formed a decade ago amid the economic crisis, accounts for 85% of global economic output. Each leaders' summit issues a final communiqué, yet Faurie played down the importance of any final statement, quipping: "Sometimes we do such lengthy documents that people are a little bit lost in their reading."
However, he said a draft proposal from the Mauricio Macri administration and its G20 team, which is still being hammered out, was "reasonable" and would emphasize stability as part of a "rational and positive outlook" on trade. However, in an ominous sign of the difficulties that may lie ahead, two other major summits this year – the G7 summit and the Asia-Pacific Economic Cooperation forum –both ended without customary joint statements.
Faurie argued that Argentina, the first South American host of the G20, was in a position to offer a "fresh approach" to world leaders, yet he was questioned about the Macri administration's approach in recent economic turmoil.
The government is pressing ahead with spending cuts as part of a US$ 57.1billion International Monetary Fund bail-out. In addition, the peso has lost nearly half of its value this year as the government's coffers struggle with a fiscal deficit and the effects of a severe drought on the powerful agricultural sector.
Faurie argued that structural reforms, which have triggered street protests, have gone in tandem with the G20 push for trade, which could help fill the coffers for emerging economies.
"It is very important for us to have a sort of stabilization of trade, because we depend on this possibility of trade to have more production and to have more ... employment"
Argentina is leading the summit just as the other two Latin American members of the G20, Brazil and Mexico, go through presidential transitions in which the countries are shifting sharply politically. Mexico's incoming president, Andrés Manuel López Obrador, and its current leader, Enrique Peña Nieto, are expected to attend the Leaders Summit.