Falklands/Malvinas air link and Cordoba stop over underlines "the historic reconciliation of UK and Argentina"
Monday, November 26th 2018 - 08:38 UTC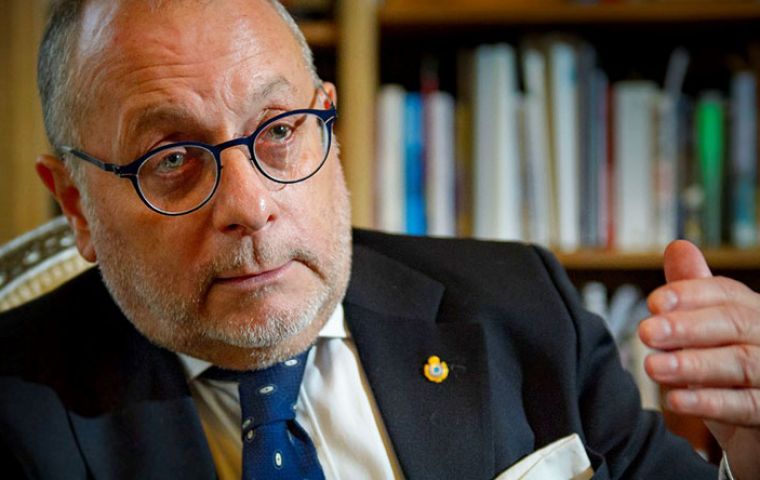 Argentina's foreign minister Jorge Faurie said that this week's G20 leaders' summit in Buenos Aires not only will it be historic since for the first time a meeting of such significance is taking place in South America, but also because of the symbolic reconciliation and constructive attitude between Argentina and the United Kingdom referred to the Falklands/Malvinas Islands.
Faurie confirmed that Theresa May will become the first sitting prime minister to visit Buenos Aires since the 1982 conflict and important announcements can be expected. It must be recalled that ex PM Tony Blair briefly visited Argentina in 2001 when he crossed the Brazilian border at Puerto Iguazú.
The minister said the Argentine government was committed to working closely with the UK on a raft of issues, from trade, to conservation, on shared South Atlantic interests, improving the Islands connectivity, and to that effect mentioned the new air link which would stopover in Cordoba City in central Argentina.
This advance in relations is set to be announced during the Prime Minister's visit, pointed out Faurie.
"We are trying to show that besides the discussion of sovereignty over the Malvinas and South Atlantic Islands, we have a lot of other areas in bilateral relations, that can be advanced, and on them we have to work to make them grow".
In a similar line of thinking Fernando Petrella, former Argentine foreign affairs deputy, under ex minister Guido di Tella, said that the new air link with the Falklands and a stopover at Cordoba "is another step in the gradual improvement of relations between Argentina and the United Kingdom".
"Cordoba reflects one of the most advanced places of Argentina both culturally and in manufacturing, I think Cordoba was chosen precisely because of the significance of Cordoba in Argentina", argued Petrella in reference to the air link stopover that the Falklands Sao Paulo Latam flight will have.
Petrella added that connecting Argentina in other places than Buenos Aires, should show the Islanders the reality of Argentina, deep Argentina which does not have much to do with the political situation of Buenos Aires, where protests and marches are daily. "In the Argentine capital there is an abundance of extremist positions when it comes to the Islands, which have always scared away the possibility of any solution to the claims".
Peterlla recalled that the 1971 communications agreement had been a great advance, "we sent teachers, fuel, granted scholarships, health services, passports..."
The coming flight means "recovering the enormous loss of time and ground which was the war and the Kirchner couple's mandate, a period of great and unnecessary antagonism towards the United Kingdom".