Air link from Cordoba to the Falklands confirmed by UK and Argentina
Tuesday, November 27th 2018 - 20:11 UTC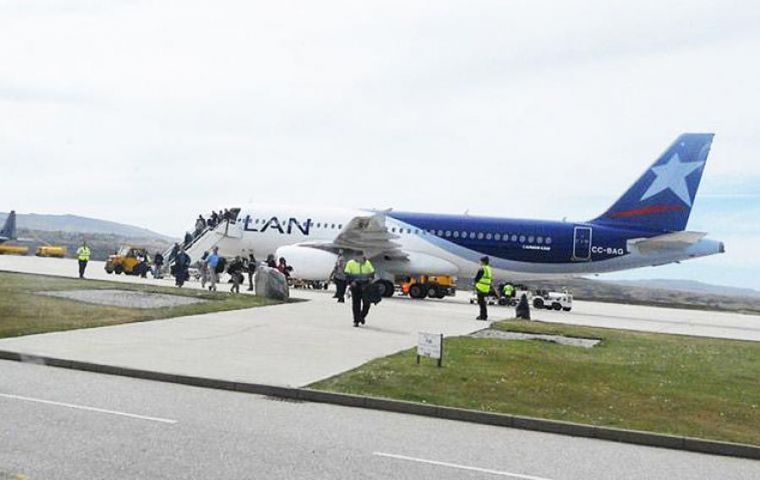 The governments of Argentina and the United Kingdom reached an understanding to establish a second commercial air link to the islands, the Falkland Islands Government (FIG) confirmed on Tuesday followed by an official statement of the embassy of Argentina in the United Kingdom.
According to the Argentine statement, this additional regular flight is part of a "gradual trust-building process, aimed at strengthening links between mainland Argentina and the Islands."
Following a detailed commercial process, agreement has been reached for a weekly LATAM Airlines flight from Sao Paulo to the Falklands with a stopover in Cordoba, central Argentina once a month (round trip).
"The Falkland Islands Government is pleased to confirm that negotiations to establish a second commercial air link," FIG statement says. According to MLA Barry Elsby this additional international air link strengthens the Falkland Islands' connections to the world enforcing the Islands Plan 2018-22.
Both Argentine and FIG statements, recognizes Argentina as "other country" since the Argentine official announcement mentions that "instruments that constitute the legal base for flights between the Malvinas (Falklands) Islands and third countries" is based in the Joint Statement and Exchange of Letters signed between Argentina and the United Kingdom under a sovereignty safeguarding formula on 14 July 1999, and the Joint Statement of February 2018.
LATAM is currently in charge of the flight that connects the islands with Chile, which one a month stops at Río Gallegos.