Sharp fall in Brazil's Petrobras fuel but not so fast at pumps
Tuesday, November 27th 2018 - 15:18 UTC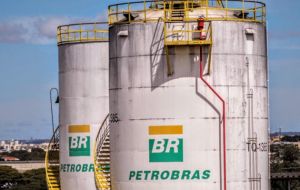 The average price of gasoline at Petrobras' refineries has dropped around 20% in November as of Tuesday but that decrease will not hit retail prices anytime soon. The state-run petroleum company made the announcement Monday, but gas stations were reluctant to follow suit, at least not at the same level.
According to Petrobras, the price of its gasoline accounts for about a third of the final value at pumps, on which taxes are due, the obligatory mixture of anhydrous ethanol and the commercial strategy of distributors and resellers, segments which may be recomposing their profit margins.
Fue sells at refineries for R$ 1.5007 per liter, 3.53 percent below Monday's R$ 1.5556, hitting the lowest mark since February 17, for a total 19.4% cumulative drop.
The successive decreases are due to the fall of the international price of oil, which is one of the parameters used by the company in its price-adjustment policy since July last year.
Petrobras' gasoline reached a high of R$ 2.2514 per liter in September, when oil was also at maximums in years and the dollar - another important component in price formation - was appreciated against the real with the prresidential elections looming over. Since then, both the oil and the exchange rates are lower.
However, gas stations have only brought down their retail prices by 3.29% in November, it was reported. Last week, fuel prices fell 1.3% to R$ 4.554 reais per liter, with weekly reductions of 0.61% for hydrated ethanol and 0.41% for diesel fuel.