Canadian journalist covering G-20 Summit tastes BA crime and justice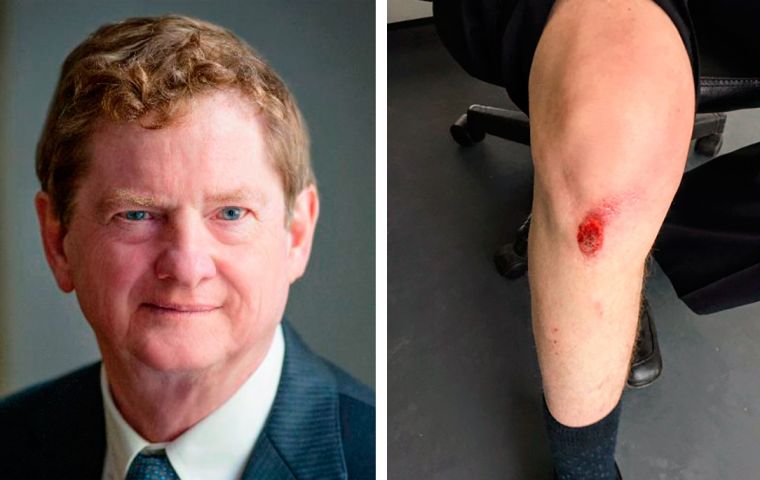 Days after the Libertadores Cup fiasco that proved the city's security authorities inability to escort just one bus, Canadian journalist John Kirton was robbed off his belongings Tuesday in downtown Buenos Aires, as he was finalising details for his coverage of the G-20 Summit.
"Visiting journos beware: Just survived with minor injuries to mugging at the corner of Lavalle and Madero avenues - very close to where the shuttles will leave for the G20 summit. No security in sight," he posted on his Twitter account.
The Toronto-based Kirton has an extensive background covering this type of events. He is "Director, G7 Research Group, G20 Research Group,
Global Health Diplomacy Program; co-director, BRICS Research Group; coauthor Global Governance of Climate Change," according to his Twitter profile.
After the mugging, Mr. Kirton had a taste of Argentine security: "I was just attacked and injured in Buenos Aires half a block from a summit site and police station. Police simply said 'it happens three times a day' so will not follow up," he went on.
His reporting experience of decades was of no help. "After 31 G7 summits, 12 G20 ones & 1 BRICS one since 1988 my luck and the host's security finally ran out. Do not cry for me, cry for Argentina."
But by Wednesday everything was business as usual for him. Or so it would seem: "A good bottle of Malbec last evening dispelled the trance. I am sure Summit security is better today. Time to move on to having the (...) Buenos Aires Summit help make Argentina full of inclusive prosperity and globalization that works for all," he posted.
Buenos Aires' security flaws made the headlines all over the world last Saturday when the bus carrying the Boca Juniors team to face River Plate at the Monumental stadium for the second leg of the Libertadores Cup final was stoned by hooligans.
As some Boca players were wounded by pieces of broken bus glass or fell sick after inhaling police teargas, the match was suspended and the South American Football Confederation (Conmebol) is yet to rule when and where it will take place.
However, Conmebol did mention where it will not be played. And that is in Argentina.