Sir Alan Duncan praises agreement on Falklands' second commercial link with the region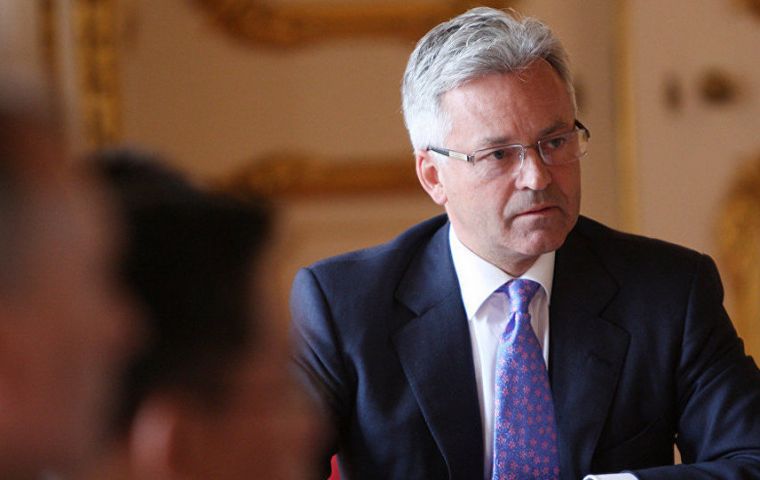 Foreign Office minister for the Americas, Sir Alan Duncan praised as historic the UK/Argentina agreement on a second commerical flight between the Falklands and the region.
Commenting on the recently announced airlink between the Falklands and Brazil, with a stopover in Argentina, Sir Alan said it was "proof of real progress particularly ahead of the G20 world leaders's summit" to be held Friday and Saturday in Buenos Aires.
He added that "this is the result of two years of negotiations" and underlines the closer links between Argentina and the UK, which despite differences in some areas, "it shows we can work together in areas of common interest which benefit all".
Sir Alan tweeted, "Final agreement secured on additional international flight to/from Falkland Islands with stopover in Argentina. It marks excellent progress with Argentina since agreement of the Joint Communique, and will deliver further economic benefits to the Islands".
Sir Alan played a leading role in the joint communiqué from September 2016 when Argentina and the UK agreed on a constructive approach to bilateral relations and cooperation, including a special chapter on the South Atlantic, referred to connectivity, trade, fisheries, oil and humanitarian projects such as the successful identification of the combatants remains buried in unnamed graves at the Argentine military cemetery in Darwin, Falklands. So far 105 of the 122 gravestones, which simply read "Argentine soldier, only known upon God" now, after 36 years, have a full name for their families to visit and honor.