Air Force One touches down - Trump is in BA for G-20 Summit
Friday, November 30th 2018 - 06:19 UTC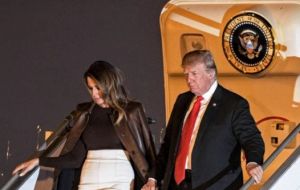 The famous Air Force One, a veritable Flying White House, landed in Ezeiza at 10.10 pm amid tight security measures right on time for US President Donald Trump to rest and get ready for Friday's breakfast meeting with his Argentine colleague Mauricio Macri.
After Trump's arrival only two of the most renowned world leaders are still expected - Russia's Vladimir Putin who is on schedule and Germany's Angela Merkel, whose airplane had to make an emergency return home due to technical problems, forcing the Chancellor to opt for a regular Iberia passenger flight via Madrid due in Buenos Aires by Friday morning.
China's Xi Jinping had arrived Thursday afternoon almost simultaneously with Spain's Pedro Sánchez to participate in the international forum.
Trump was greeted by Senate Speaker Federico Pinedo and Foreign Minister Jorge Faurie among other high ranking government officials.
The US president went by car (one of the limousines known as "The Beast") to the Dahau Palace where he will be staying.
He is due at the Government House at 6.55 am for breakfast and an open agenda talk with his former business associate and golf rival.
Among the issues reportedly to be discussed are bilateral trade and the region's situation, particularly Venezuela and Nicaragua.
Macri will thank Trump for his support in negotiations with the IMF, and also for the decision to review the increase in tariffs to Argentine biodiesel.